Sometimes cooking can become tedious and redundant — you need something quick and easy. Have you ever tried simplifying your work by cooking with muffin pans? Try these 3 easy Muffin Pan recipe ideas (meals and dessert):
Hamburger and Cheese Wontons
Ingredients
Wonton wraps
1 lb ground beef
1 tablespoon Worcester sauce
1/2 cup shredded cheddar cheese
Non stick cooking spray
Muffin pan
Instructions
Preheat oven 350*. In a bowl, add raw ground beef, Worcester and combine. Now, spray muffin molds with the non stick spray. Place 2 wontons inside each mold, over lapping. Add 4-5 tablespoons of meat mixture to each mold. Bake for 20 minutes and add cheddar cheese to top and continue baking until cheese is melted.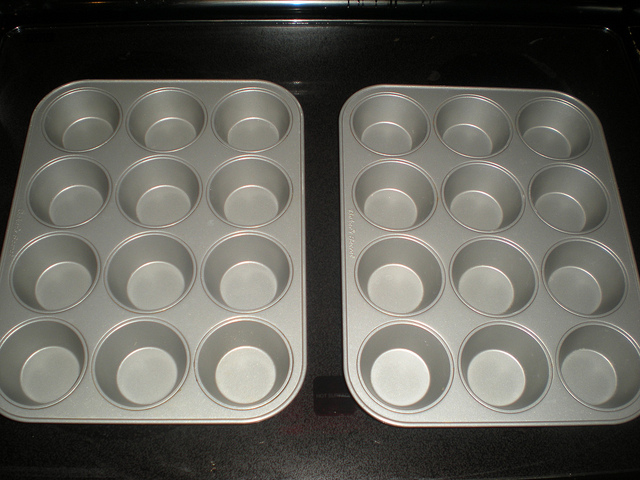 Mini Pot Pies
Ingredients
1 can of biscuits
1 lb chicken breast ( cooked and cubed )
1 can cream of chicken
1/2 cup mixed vegetables ( frozen )
2 teaspoons onion powder
1 teaspoon garlic powder
1/4 teaspoon salt
1/4 teaspoon black pepper
Non stick oil spray
Muffin pan
Instructions
Preheat oven to 350*. Spray muffin molds with the non stick spray.
Gently peel biscuits and make one biscuit into two biscuits. Flatten out with rolling pin. Mold each piece inside of the muffin mold. Now in a bowl, add chicken breast, cream of chicken, frozen vegetables, garlic powder, onion powder, salt and pepper. Mix well. Then fill each mold with chicken mixture. Bake for 10-15 minutes.
Miniature Apple Pies
Ingredients
1 package of puff pastry
2-3 Granny Smith apples ( peeled and cubed )
1/4 stick melted butter
1/2 cup sugar
1/4 teaspoon nutmeg
1/2 teaspoon cinnamon
1 tablespoon lemon juice
1 egg white
Instructions
Preheat oven to 350*. In a large bowl add apples, sugar, nutmeg, cinnamon, lemon juice and melted butter. Mix well. Now on a lightly floured surface, unroll pastry dough and flatten with rolling pin. Cut dough into 6″ circles. Lightly grease muffin pan and press pastry into the muffin mold. Fill with 3-4 tablespoons of pie mix. Take 1 pastry circle and place on top of mix. Crimp the edges together and make one slit in the middle of the pastry. Lastly, brush with egg white. Repeat these steps for as many pies possible.
The best thing about these Muffin Pan recipes is that you can cook as many as you like and freeze or refrigerate them until you're ready to gobble them up. You can reheat them in a microwave or back in the oven.
Posted by Eve
Image credit: Flickr/therecipedrawer
Did you enjoy reading 3 Easy Muffin Pan Recipe Ideas? Well we enjoyed having you and would like to be friends!
This post contains affiliate links.