The fall is the perfect time of the year to build a shelter for the stray and feral cats you care about. Some cat-friendly folks choose to build outdoor homes that resemble real houses for their furry feline friends, like this one. But you don't have to put in that much effort or money — you can create an outdoor cat shelter to keep them safe from the harsh winter weather using materials that you probably already have. Take a look through your garage, attic or storage space to find useful materials.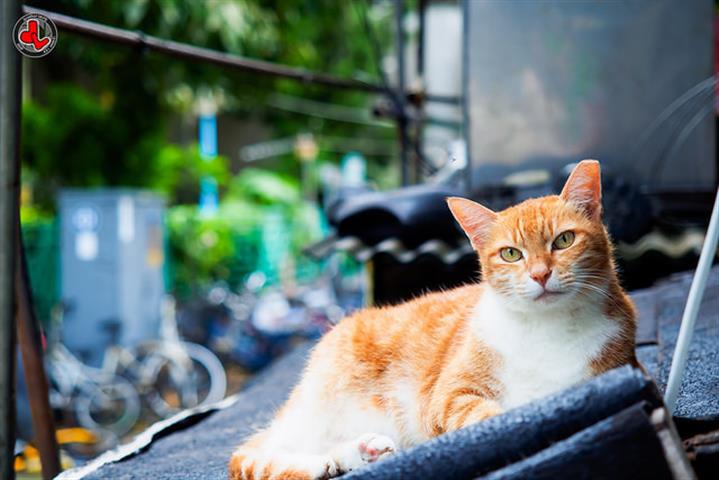 Convert a Large Plastic Cooler
A heavy duty plastic cooler can be transformed into a cozy shelter. The only tool needed is a jigsaw. Carve two square holes on both of the shortest sides, to create an exit and an entry way. Generally, if a cat's head can fit in a hole, his or her entire body will fit. For added warmth, line the bottom with STRAW (moisture resistant) or blankets that work with body heat. Straw can be ordered online, picked up at a local farm or requested at your local pet store.
Tire Shelter
Cats like to sleep on tires in the winter because it's a warm, weather resistant place that keeps them guarded from the snow. If your have old unused tires in your backyard or garage, convert them into small cat shelters. Glue a circular piece of plywood on the bottom of the tire and place a large bucket on top that will completely cover the top opening of the tire. Cut two holes into the bucket on either side to give the cat two easy escape routes, and add straw for warmth.
Old Dog House
You can also turn an old dog house into a cat shelter, and it will provide plenty of room for a small colony of stray cats. Just add extra insulation to the walls and floors for added warmth. Don't forget to create that extra exit point, if they need to escape quickly. If you plan to put the dog house near your home where there's an outdoor outlet, insert a cat warming pad for added warmth. They cost about $20-$30 and really make a difference.
Old Dresser (Compartments)
If you own an indoor cat, you know how much they love to explore the different compartments in a dresser drawer. If you have a used, old or unwanted small dresser or bureau, use it to create an outdoor cat shelter. Some dressers have three or four dresser drawers and each can act as a compartment for one or two cats. Use a jigsaw tool to cut holes in the sides of each drawer and keep the front drawer panes in place. Line the interior of each drawer with cat-safe insulation or straw. Always remember to create an exit and entry point for each section where the cats have two convenient ways to escape if necessary.
* Another Option to Consider if You Have a Bit More of a Budget
I purchased this outdoor heated kitty house for my favorite feral buddy years ago, and it is still providing her with lots of warmth and comfort during the colder months. If you have the funds to spare, consider this as another option when fall starts turning into winter.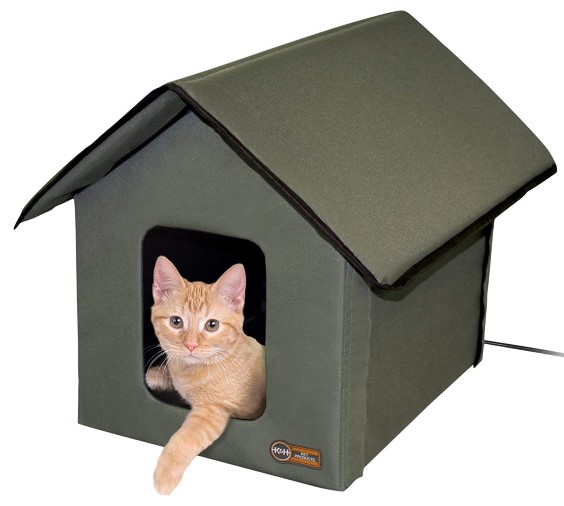 Click here for a few other tips to keep an outdoor cat warm.
Here are a few reasons why cats are beneficial to your neighborhood.
Whichever method you use to create an outdoor cat shelter, the three most important factors are:
1- Always create two escapes routes to the shelter for the safety of the cats.
2- Make sure that the bottom of the shelter is off the ground and properly insulated. You can use a couple of wooden pallets or a table to raise the cat house off the ground.
3- Ensure that you use materials that are safe for cats and that will resist moisture/mildew/mold.
* Important: If you're caring for a colony of neighborhood cats, read this article about Trap, Neuter, Return (TNR). It will go a long way in limiting the amount of cats and kittens that need shelter every year. It's very humane. Also learn more about TNR programs here and donate to a local organization that does this important work.
God bless you for taking care of your neighborhood kitties during the winter!
Posted by Lorraine
Photo credit: Flickr/jonathan-leung
Did you enjoy reading 4 Easy Ways to Create an Outdoor Cat Shelter? Well we enjoyed having you and would like to be friends!
This post contains affiliate links.