When you are living alone or just with one other person, it makes very little sense to plan a Thanksgiving where you will have to make a huge spread.
Thanksgiving prep and cooking comes with its benefits and challenges. You have to marinate things, chop vegetables, decide on the order of baking or frying various dishes. Then you have to make room in the refrigerator for your leftovers.
One benefit that is surely now clear is that you can use your air fryer to create a delicious Thanksgiving dinner for you and your loved one, or just yourself, that will require minimal effort. See these easy meals that you can make in an air fryer to make Thanksgiving easier.
*You might want to use a small aluminum baking pan that you can buy at your local dollar store for these cooking ideas for your air fryer.
Turkey Wings with Juicy Sliced Potatoes
It can take an entire family to finish off a whole turkey. Not to mention, you have to start thawing it out, brining it, and cooking it very early in the morning on Thanksgiving Day. So instead, if you are celebrating Thanksgiving on your own or with one other person, get a couple of turkey wings. If it's frozen, thaw the turkey out, which should take a few hours, and brine it in some kosher salt and water. Create a seasoning mixture with garlic powder, onion, cayenne pepper, paprika, salt, and pepper and any of your other favorite seasonings. Work it into the meat along with some olive oil and let it sit in the fridge for a while. Cook it for about 30 minutes in a pan to get the juices flowing, then place each turkey wing in your air fryer. Cook on medium at about 300 degrees for 45 minutes to an hour, then increase the temperature as needed so that it has a nice crisp.
If you must have stuffing with your turkey, just cook it quickly in a pan on your stove and then add to the air fryer in the turkey juices afterwards. You can also use the leftover juices in the pan to make a quick turkey gravy using flour or corn starch.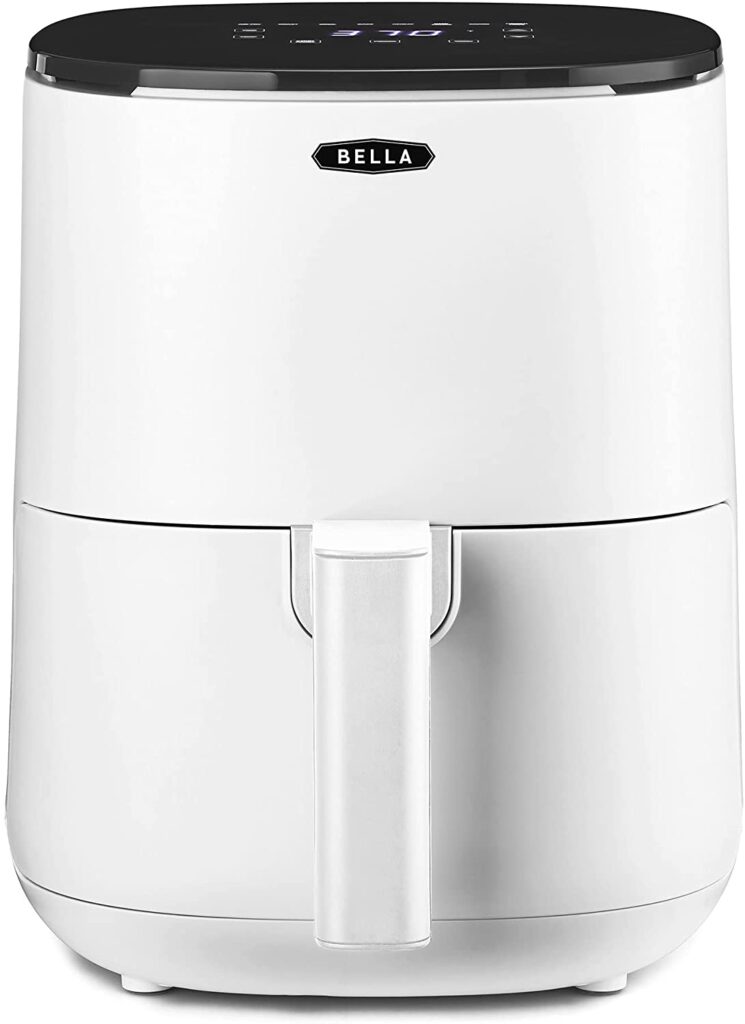 Air Fryer Lasagna
What is lasagna except some pasta, meat, cheese, and sauce that is baked together? Why not bake a small pan of lasagna in your air fryer?
Prepare your lasagna as usual, layering it with sauce, pasta, and cheese, and place it in a small baking pan that will fit in your air fryer. Cook it for about 45 minutes on medium, then increase the temperature as needed so that it has a nice crisp on top.
Grilled Veggies
Chop up a mixture of your favorite veggies to enjoy during Thanksgiving dinner and grill them in your air fryer. So quick and simple. Douse with chicken or vegetable broth along with some olive oil. Keep an eye on the veggies so that they don't get overcooked. You might even decide to add sliced sausage or kielbasa to the mix—just grill them on medium heat for about 15 minutes beforehand, then add veggies.
Mac and Cheese in the Air Fryer
Transfer your favorite mac and cheese recipe for Thanksgiving into a small pan and bake it in your air fryer. Again, so simple. You just want to make sure that your noodles are 80 percent cooked and all of the ingredients are mixed in before you add them to your small pan.
What else do you think you can make in your air fryer for a single Thanksgiving meal, or just for you and a friend? I'm sure you have some ideas!
Did you enjoy reading
An Air Fryer Thanksgiving: 4 Easy Meal Ideas
? Well we enjoyed having you and would like to be friends!
This post contains affiliate links.