Now that summer is over and the kids are back to school, you might need some help getting back into the "back to school" routine — rising early, getting the kids off to school, picking them up, attending their sports games and more. Here are a few back to school tips for parents:
1) Have a talk with your kids. Explain that families must work together as a team in order to be functional. Everyone has a job to do to make things run smoothly.
2) Everyone's clothing should be chosen the night before so that time is not wasted in the morning choosing an outfit. Pick one or two days out of the week to do laundry (like Sunday night) to ensure that the kids always have something clean to wear. If your children are over the age of 12, assign them laundry duty on an alternating schedule.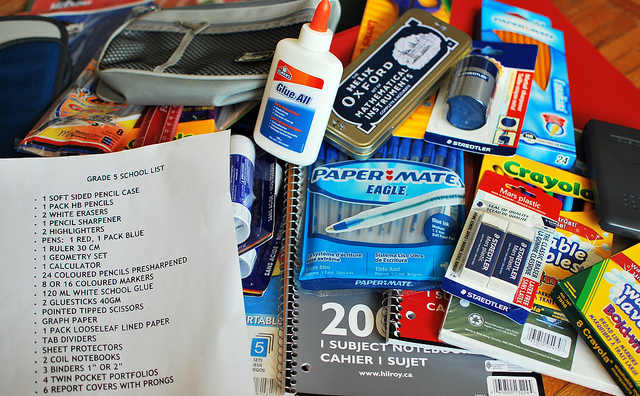 3) A great day begins with a balanced breakfast — try to put together a breakfast that has at least one protein and one vegetable to give your kids a good start. Everyone's morning will be made much easier if the meal is already prepped in the refrigerator the night before school. For instance, you can bake bacon in the toaster oven the night before and then heat it up in the morning. Choose healthy foods that can be heated quickly in the toaster oven.
4) Make large dinners that can feed your family for more than one meal. For example, make an extra large lasagna and put the remaining lasagna into the freezer or refrigerator to be heated and eaten another day. If you always make large dinners you will spend less time in the kitchen and more time with your family.
5) Get your children into the habit of completing their homework directly after school. After work is completed and checked by a parent, have each child place his or her backpack at the front door. Make them responsible for ensuring that all necessary items are placed in the school bag and ready for the next day.
6) Set up a "lunch line" on the kitchen counter right before bed, and have your children help out. You're responsible for the sandwiches, one of the kids can put snacks in each lunch box and another packs it into the fridge. Turn it into family time — something that your kids will look forward to. Play some upbeat music and have a few non-sugary snacks available for them to enjoy (like chips and dip or salsa).
7) Purchase an alarm clock for each child. Then teach them how to set the clock as well as the alarm. Children love responsibility so give it to them. Explain that this is what adults have to do to be on time for work when they get older. It will also help them get prepared for college — a lot of kids are so used to having their mom wake them up for school that they have a hard time being on time when they're on their own and need to attend classes.
8) Buy a large white dry erase board and detail each child's responsibility before and after school. This way you as a parent are not repeating yourself on a daily basis regarding chores etc. Always remember to reward the child for completing all tasks that are on the board.
Use these back to school tips for parents to get your household in order this fall and beyond. The sooner you begin to organize your home, family and schedule, the better. Remember that children need to be raised with a sense of independence and taught not to completely rely on their parents — teach them early!
Posted by Eve
Image credit: Flickr/meddygarnet
Did you enjoy reading Back to School Tips for Parents? Well we enjoyed having you and would like to be friends!
This post contains affiliate links.