I have this theory: I believe that when we reach a certain age, time or experience in our lives, we start to carry our burdens in our bellies. I think that's why so many American adults have belly fat — large or protruding stomachs and digestive issues.
I am my own case study for this theory. When I was in college I was so carefree! I had a good time pretty much all of the time, and I didn't think about anything except passing my exams (easy) and deciding which party to attend on the weekend.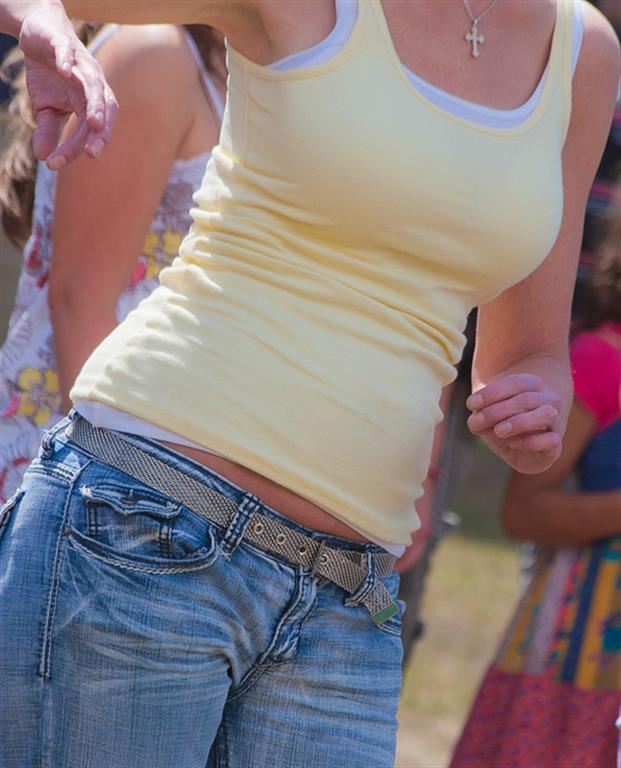 And I looked good. I was a slim trim 135 lbs with curves in all of the right places and a flat perfect stomach that everyone envied. I went shopping all the time and always had the best clothes — the latest fashions.
Back then I actually believed that the world would end soon after I left school, so I wasn't worried about all of the debt I was accruing and the unmeasured risks I was taking.
But guess what… the world is still here and a lot of that stuff came back to pimp-slap me in my face. There was the extreme debt, the stress of not finding the job I thought I deserved and the sadness of not meeting that perfect guy from my childhood fantasies who I assumed I'd marry in my twenties.
It took a while, but as the realities of life began to descend on me more and more, my body began to change. One day I woke up and I had a GUT for the first time in my life.
Along with this new found "kangaroo pouch pooch" that I had on my stomach, I also developed some weird digestive problems — constipation, diarrhea, bad gas and other problems.
It's Not a Coincidence
My case is definitely not the only proof of this theory. I know countless people who also went from having slim stomachs in their younger years to gaining significant weight in their midsection (pregnancy and no pregnancy) when they became overwhelmed with life's burdens.
Sure, it has something to do with diet. But I believe it has a lot more to do with mental stress, depression and "stinkin thinkin" as Zig Ziglar liked to call it.
If you notice, happy young people who live very carefree lives tend to have nice fit stomachs while their stress-filled parents have "belly burden." Young people eat that same bad American diet as their parents (burgers, fries, chips, ice cream) but still maintain their flat stomachs.
Real Solutions to "Belly Burden"
So enough talking about the problem — what about the solution(s)?
– Commit to a daily mental cleansing. Meditation is a great way to cleanse the mind. It's like putting your brain on the rinse cycle each day and starting again. Find a quiet place where no one can both you or put on some earphones with meditation music, close your eyes and meditate on the following:
1) things you're grateful for
2) what you want and need in life
3) things/people/experiences that make your happy.
Also, instead of those hard workouts, try yoga and Pilates first to stretch places that need to be stretched.
– Better eating and diet. Eating for better health is simple: more fruits and vegetables and less of everything else. You should also set up an appointment with your doctor to see if you might have some type of dietary allergy that could be causing the bloat (like a gluten allergy).
– Investigate whether you might be lactose intolerant. This was one of my main issues! I love cheesy Italian meals and didn't know that I was lactose intolerant. Part of my gut's "grand debut" can probably be attributed to this. So I started taking lactase supplements with cheesy meals (best to eliminate cheese and milk if possible) and probiotics daily (I like Probiotic Pearls) and finally started to see a positive change after a few months.
– Reduce alcohol and carb intake. This goes along with better diet, but it's worth a category by itself. Yeasty carbs like pasta and potatoes sit on your stomach and promote bloat. Alcohol and beer is high in yeast, which can bloat the stomach. Drinking a lot of hard liquor can also irritate the lining of the stomach and intestines. Reduce or eliminate your intake of all of these things.
– Depression counseling. Depression is a mental condition that can eat away at you little by little over time. Experts also believe that it is a cause of weight gain and physical health issues. Negative thinking can manifest in the body. Sometimes talking to a professional who will just listen to what you're going through helps you to see things more clearly. And remember: a whole lot of people struggle with depression, don't feel ashamed about it.
– Release worry. Dale Carnegie, the author of Stop Worrying and Start Living" gives a simple suggestion for overcoming worry: determine what is the worst case scenario and stop being afraid of it. If that happens, you'll still be breathing and have another chance to make it right.
– Listen to books by people who "get it." One of the solutions that has helped me over time was listening to audiobooks by experts, psychologists and regular folks who have been through the same thing. I really enjoy Rhonda Byrne's audiobook The Power and recommend it to everyone who will listen.
– Do more of what you love. So many people work jobs that they hate to impress people who they don't even really like. Start a side gig or hobby that you enjoy that gives you great pleasure.
If you think that you may be carrying your burden in your belly, you certainly aren't alone. Explore what may be going on in your mind that could be causing belly fat and affecting what's going on in the rest of your body as well.
Posted by Jasmine
Photo credit: Flickr/72213316@N00
Did you enjoy reading Belly Fat Theory: Our Burdens Go Straight to Our Bellies? Well we enjoyed having you and would like to be friends!
This post contains affiliate links.