Sweet potato pie is a traditional pie recipe that most enjoy baking during the holidays. There are many different versions of this recipe that vary depending on your geographical location, but this particular recipe is of southern (American) origin. All that you need is a few key ingredients, spices and of course fresh sweet potatoes. This recipe for southern sweet potato pie will yield 1 pie and feed 4-5 people.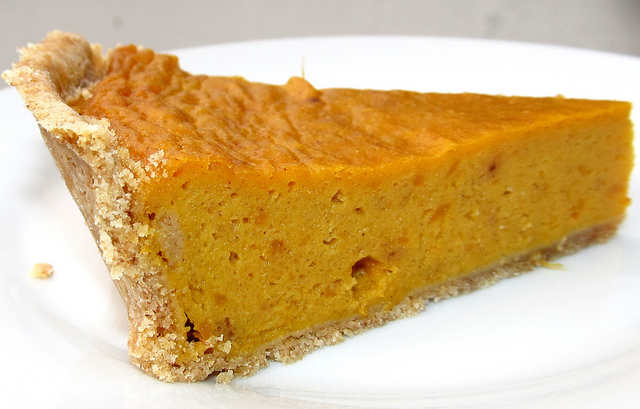 Ingredients
2 large sweet potatoes peeled and cut into 1″ round slices
2 eggs
1 teaspoon baking powder
1/2 cup white sugar
1/4 cup dark brown sugar
1-2 tablespoons cinnamon
1 teaspoon nutmeg
1 tablespoon vanilla extract
1/4 cup evaporated milk
2 tablespoons unsalted butter
Instructions
In a 5 quart pot add water and bring to a rapid boil. Carefully, add chopped sweet potatoes, cover and allow to boil. Preheat oven to 350*. Potatoes are ready when they are fork tender. Turn heat off, remove potatoes from boiling water and place in a large mixing bowl. Now add butter and mix with a fork until butter is completely melted. Then add all other spices and mix with a mixer on low speed. Now add 1 egg at a time and blend well. Add both types of sugar and blend until mix is smooth. Slowly add evaporated milk and blend. Taste mixture for flavor and sweetness.
Pour the mixture into a frozen pie crust. Place your pie on the middle rack of the oven and allow to cook for 45 minutes. (For a crispier pie crust, bake at 300* for 5 minutes until light golden brown).
Serve with a dollop of whipped cream or a small scoop of vanilla ice cream.
Enjoy your southern sweet potato pie!
Posted by Lorraine
Image courtesy Flickr/F_A
Did you enjoy reading Best Southern Sweet Potato Pie Recipe? Well we enjoyed having you and would like to be friends!
This post contains affiliate links.