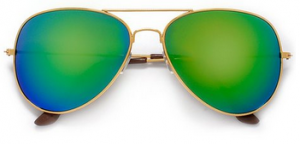 St. Patrick's Day is soon approaching and many of us are planning to visit a bar, party or parade to enjoy the day's festivities.  Whether you are of Irish descent or not, we all want to have fun celebrating on St. Patty's Day!  So, I did some searching on my favorite site (Amazon) to look for some humorous costumes, shirts and accessories that would make the day enjoyable for me and my friends.
Green Retro Aviator Glasses!
The first accessory that I found was a pair of green retro aviator glasses.  You can pretty much get these and you're all set for St. Patrick's Day fun. An added bonus is that they can be worn year round.  There's also an option to buy 3 pair — one for you and one for two of your friends! They have UV ray protection and are very affordable.