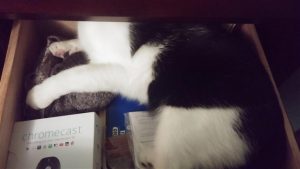 Posted by L.G.
My cat climbed into a bottom drawer of my dresser and disappeared. I got tired of looking for her and went on with my day. An hour or so later I opened a small top drawer of the dresser and here's what I see:
Did you enjoy reading The Cat Files: Disappearing in the Dresser? Well we enjoyed having you and would like to be friends!
This post contains affiliate links.