This recipe is for chocolate brownies and is a little healthier than other brownies because I have simply replaced all of the white cane sugar with a plant based sugar called Stevia. I also have replaced the butter and opted to use coconut oil instead.
I have always enjoyed baking homemade cakes and pastries. With all of the new research emerging about how white sugar negatively affects your health, I decided to use a more healthy sugar to bake with. My  health research has also made me think about the ill affects of butter on the heart and circulation. That's why I've decided to make these substitutions. To my surprise the taste is not impacted much — I do not miss the white sugar or butter. Here's the recipe for delicious chocolate brownies made with Stevia & Coconut Oil:
Ingredients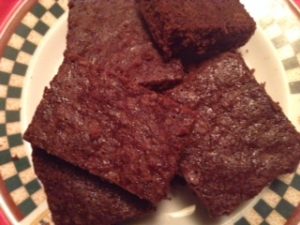 1 teaspoon vanilla extract
2 eggs
1 1/4 cup Stevia
1/2 cup flour
3/4 cups cocoa powder
1/4 teaspoon baking powder
1/2 teaspoon salt
3/4 cup coconut oil
Instructions
Preheat oven 325*
In a large bowl add
Softened coconut oil and cocoa powder, mix well
Then add
Stevia, mix well
Then add
Eggs
Flour
Salt
Baking powder
Vanilla extract, combine ingredients well
Then pour batter into a 8″ square baking pan, lightly greased for 30 minutes
Brownies are done when you stick a knife into the center and the knife is removed with no wet batter.  You can even add chocolate chips or nuts to brownie batter!!
Enjoy your chocolate Brownies Made With Stevia & Coconut Oil!
Posted by Eve
Did you enjoy reading Chocolate Brownies Made with Stevia & Coconut Oil? Well we enjoyed having you and would like to be friends!
This post contains affiliate links.