In many cases individuals are pressured into cosigning home loans for family members, friends or significant others. The results can be less than desirable, to put it as nicely as possible. Before you make this very serious financial decision carefully review the downsides and put the situation into the proper perspective.
Issues with Non-Payment
The first most pressing risk of cosigning a home loan is the chance that the other signer will fall into difficult financial times and stop making regular payments. As the cosigner you have to pick up the slack unless you want your credit to be destroyed as well. If the loan goes 30 days overdue the mortgage lender can begin reporting negative information to your credit report.
Getting Another Home Loan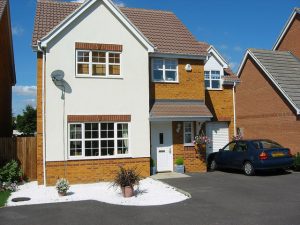 If you cosign on a home loan with another person now you may have trouble getting another home loan for yourself later. For instance, say you cosign a mortgage loan for your child then need to buy a condo for yourself in a few years. Some lenders might not approve you for a new home loan when one is currently open. It depends mostly on your debt-to-income ratio (should ideally be 28% or less, meaning your home expenses should not exceed 28 percent of your gross monthly income). Even if you don't have to make payments on the loan you consigned, the lender might still consider it in your debt-to-income ratio.
Selling the Home
When you cosign with another person on a home loan in many cases both names are listed on the deed. That means you must get the agreement of the other person to proceed with a sale. If that person is not ready to sell or has disagreements regarding terms you can find yourself stuck in a difficult situation or possibly a legal dispute. In some cases one borrower does not want to leave the home but cannot make payments, so the cosigner is forced to continuing paying or risk defaulting on the loan.
Take Your Time
If you do decide to cosign on a mortgage loan make sure that you and the other person are on the same page from the very beginning. Approach it like a business partnership — draw up an agreement outlining every possibility and explaining how you will handle each situation that may arise. Also, consider your own future plans before signing on the dotted line; you might decide that it is just too risky at the moment. Finally, do not let anyone rush you into your decision.
Posted by Jade
Photo Credit: Flickr/part 3
Did you enjoy reading Downsides of Cosigning a Home Loan? Well we enjoyed having you and would like to be friends!
This post contains affiliate links.