Coleslaw is an all-American side dish and a summer must-have.  I can't imagine enjoying a cook out without having a spoonful of coleslaw on my plate. This recipe is sweet, creamy and tangy. The secret to great coleslaw is that the finer the cabbage is cut, the better the coleslaw will taste. So make sure you have either a really sharp knife (be careful when using) or a mandolin to shred your cabbage. This recipe for homemade coleslaw is best when prepared the day before, so that all of the flavors can marinate well into the cabbage.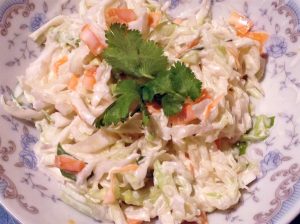 Ingredients
1 Large Head of Cabbage (finely shredded)
1 Large Carrot (peeled and shredded)
1/2 Cup Mayonnaise
3 Tablespoons White Vinegar
2 Tablespoons of White Sugar (or 1 tablespoon of your favorite sugar substitute)
1/2 Teaspoon Black Pepper
Instructions
In a large bowl, combine mayonnaise, vinegar, sugar and black pepper. Mix well. Then, add the cabbage, a handful at a time, tossing it to coat the cabbage. Now, add the shredded carrot and mix well. Store in the refrigerator for at least two hours. For the best results refrigerate over night. Give the coleslaw a toss before serving.
Posted by Lorraine
Did you enjoy reading Easy Homemade Coleslaw? Well we enjoyed having you and would like to be friends!
This post contains affiliate links.