Most American's, including myself, enjoy purchasing a pizza pie at their favorite Italian restaurant. One day, I decided to make a pizza at home with the assistance of my young children. The result was a fun day in the kitchen, cooking and laughing with my kids. We all learned that it was possible to make a quality pizza at home. I'm pleased to share my Cheesy Pizza recipe with the world — a dinner dish that the whole family can enjoy.
Ingredients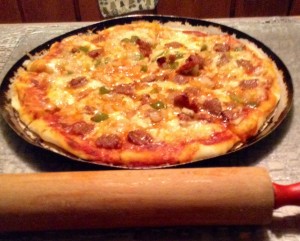 1 bag of pizza dough ( found at most grocery stores )
1 12 ounce jar of pizza sauce ( brand of your choice )
1 lb mozzarella cheese ( whole milk )
1/3 cup all purpose white flour
1 tablespoon cooking oil or non stick cooking spray
Instructions
Preheat oven 425-450 degrees
On a flat cooking surface, place a good sprinkle of flour onto surface
Place dough onto floured surface
Sprinkle a little more flour on top of dough ( to ensure dough doesn't stick to surface )
Work dough until you create a circle ( resembling a pizza)
Continue with a rolling pin to further flatten and enlarge dough until large enough to fit in your pizza pan
Grease pan with oil or non stick cooking spray
Carefully place dough onto pizza pan and put aside
Shred your block of mozzarella or you can purchase mozzarella pre-shredded (I think Polly O cheese made with whole milk is the best cheese for this recipe, but it's up to you )
Open your jar of pizza sauce, pour half of the sauce in the middle of the dough
With a large spoon, spread sauce in a circular motion to the edge of the dough ( don't add to much sauce )
Sprinkle the mozzarella evenly on the entire pizza
Add your other toppings, it's your choice, for example, pepperoni, onions, green peppers, chicken breast cubed, pineapples, etc…
Place pan into your preheated oven for 12-16 minutes, until dough is brown/cooked and cheese is melted
Let pizza stand for 2-3 minutes before slicing (because cheese needs to cool off a bit for easier slicing)
With this Cheesy Pizza recipe, the outcomes are endless. You can put certain toppings on each portion of the pizza, if you have a finicky eater or just load the pizza with foods that you enjoy.
Mangiare!!!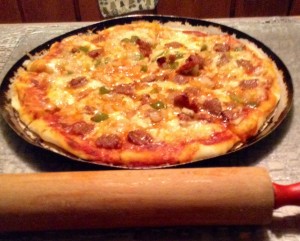 Did you enjoy reading Evelyn's Cheesy Pizza Recipe? Well we enjoyed having you and would like to be friends!
This post contains affiliate links.