One day, I had a hankering for Jamaican beef patties. Then, I remembered, that some years back, a Jamaican friend of mine gave me her family's recipe. So, I searched my recipe box to find it. I was thrilled that I found the recipe titled "Nanny's Beef Patty." The instructions were in two parts: 1 part beef filling and 1 part dough. I made a few adjustments to satisfy my taste buds. If you make this recipe correctly, you will never look at a store bought beef patty with the same affection. IRIE!!!!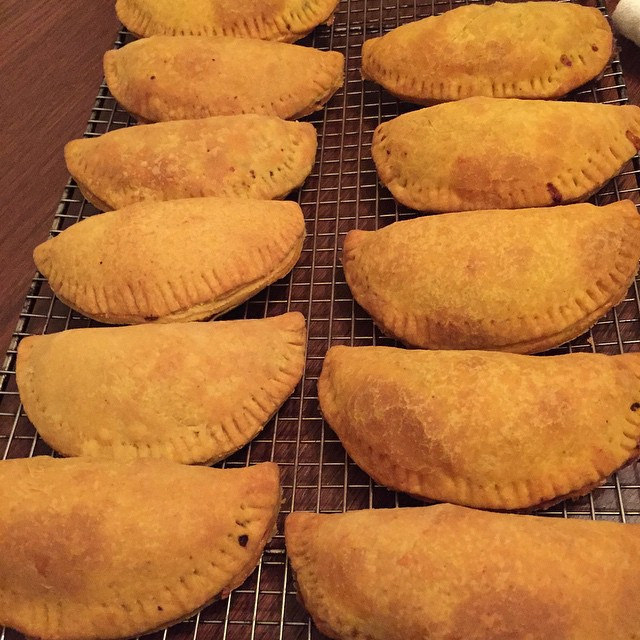 Ingredients:
Beef Filling
1 LB Lean Ground Beef
2-3 Large Cloves of Garlic, Finely Chopped
1/2 Cup of Chicken Stock
1 Medium Onion, Finely Chopped
1/2 Cup of Unseasoned Bread Crumbs
1/2 Teaspoon Salt
1/4 Teaspoon Pepper
3/4 Teaspoon of Jamaica Curry Powder
1 Teaspoon of Allspice
1 Teaspoon of Thyme ( dry )
Pastry
4 Cups White All Purpose Flour
2/3 Cups Water
1 Teaspoon Jamaican Curry Powder
3/4 Cup of Butter (room temperature )
1 Teaspoon Salt
Instructions:
(Make beef filling first because it needs to cool off before you put it inside pastry dough.)
Pre-Heat a Large Sauce Pan on Medium High Heat
Add Ground Beef
Add Chopped Onion
Add Chopped Garlic ( add garlic last, so that it doesn't burn )
Brown the ground beef until thoroughly cooked along with the onion and garlic.
Make sure to properly break up ground beef, so there are no chunks of meat in the sauce pan.
When meat, onion and garlic is done, remove from heat and drain excess oil from sauce pan.
Return sauce pan to stove with the heat setting on low.
(The reason why I don't add the other ingredients to the meat while cooking, is because I feel you lose a certain amount of flavor when the seasonings are added to the meat before you remove the excess oil from sauce pan.)
Now you can add your other ingredients.
Add the remaining ingredients to the sauce pan and combine.
Taste the mixture to ensure that it contains enough salt.
Sauté mixture for about 3 minutes.
Remove from heat, without the lid.
Making the Pastry 
In a large mixing bowl, add all your dry pastry ingredients including the butter.
Use your fingers to incorporate the butter with the flour and seasonings.
Slowly add water to mixture.
Mixture should look crumbly, not wet.
Make the dough into a ball and place onto a lightly floured surface. ( so dough doesn't stick to surface )
Kneed with the palm of your hand for about 2 minutes.
Return dough to bowl and tightly cover with plastic wrap.
Allow the dough to rest for about 20 minutes, while the beef filling continues to cool.
After the dough has rested, preheat oven to 400 degrees.
Remove dough from bowl and place on a floured surface. Make the balls a little bigger than a golf ball.
Take floured rolling pin and roll dough to make a thin oval shape. (Doesn't have to be perfect, will taste great anyway)
Repeat the steps for each dough ball made.
On a large non stick baking sheet, place 1 dough oval on the baking sheet and fill it with approximately 1/4 cup of beef filling in the middle of the pastry. (Filling amount depends on the size of your pastry, so add or subtract filling as needed.)
Fold dough in half, to make a half moon.
Crimp the edges together to ensure filling is kept inside of the pastry.
Repeat steps, until all pastries are made on the baking sheet.
Place baking sheet in the oven, on the middle rack.
Cook for approximately 20-30 minutes or until golden brown. (Check your Jamaican beef patties after 15 minutes)
Enjoy!!
Posted by Eve
Photo courtesy Flickr/sixteenmilesofstring
Did you enjoy reading Evelyn's Homemade Jamaican Beef Patties? Well we enjoyed having you and would like to be friends!
This post contains affiliate links.