My family really enjoys spaghetti night and anyone who knows Italian food understands that the tomato sauce is what makes the dish. This homemade spaghetti sauce recipe is great to use for just about any pasta dish, such as baked ziti, lasagna and even as a pizza sauce.  Double this recipe and make plenty so that you can freeze and thaw the rest on another night for a super easy dinner.  This recipe is best made with fresh ingredients, but it's perfectly fine to use dried spices.
Ingredients: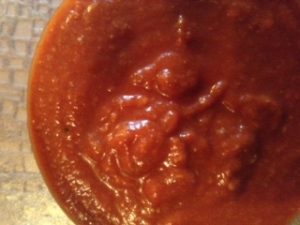 29 ounce can of tomatoes (I like Tuttoroso brand)
2 tablespoons tomato paste
1/2 of a small onion ( diced)
1/2 of a green pepper (diced)
3 garlic cloves ( grated)
1 lb of ground beef ( optional)
1 tablespoon of oregano
1/4 teaspoon dried red chile flakes
2 tablespoons extra virgin olive oil
1/2 teaspoon sugar
1 cup of water
Instructions
In a large sauce pan set on medium heat sauté diced onions cook till soft and place to the side
Add ground beef to pan and cook until meat is browned
Add can of tomato sauce and mash tomatoes with a potato masher
Add tomato paste
Bring to a simmer
Add onions and green pepper and grated garlic combine well
Add oregano, garlic, red pepper flakes, sugar, salt and pepper and water
Stir together
Set heat on low and simmer 45 minutes stirring occasionally
Serve over spaghetti or noodle of your choice.
This homemade spaghetti sauce is savory and delicious — so good that you might find it hard to resist grabbing a second helping. Enjoy!
Posted by Eve
Did you enjoy reading Eve's Homemade Spaghetti Sauce? Well we enjoyed having you and would like to be friends!
This post contains affiliate links.