As an adult, I now am fond of all different types of curries. One curry, in particular enticed my taste buds, so much that I tweaked a recipe to enjoy with chicken thighs. It has a spicy kick and a hearty feel. Here it is!!!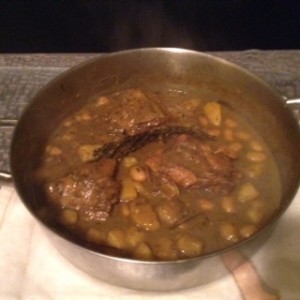 Ingredients
2 Lbs Chicken Thighs
3 Tablespoons of Jamaican Curry Powder
2 Large White Potatoes Diced
3 Cups of Water
1 Medium Yellow Onion Diced
3 Fresh Sprigs of Thyme
3 Large Garlic Cloves Finely Diced
1 Scotch Bonnet Pepper Whole (do not chop or cut, its insanely hot) 1 Can of Butter Beans Drained
2 Teaspoon Salt
1 Teaspoon Black Pepper
2 Tablespoons Oil
Instructions
Clean chicken thighs ( leave skin attached )
In a large bowl add all ingredients EXCEPT oil, butter beans, water and scotch bonnet pepper.
Add chicken thighs to bowl, gently stir and allow chicken to marinate for at least an hour
After chicken marinates, put oil into a large, deep cooking pot on medium high heat Allow oil to heat 1-2 minutes
Take chicken thighs and place in pot and sear chicken on both sides (approximately 3 minutes on both sides) Add water, scotch bonnet and remaining marinade to the pot with the chicken
Allow to simmer on medium low heat for 45 minutes to an hour to fully cook chicken and blend flavors ( this allows mixture to reduce and thicken ) Stir gently every 10 minutes or so
Add butter beans 30 minutes into cooking process
Best served over rice!!
Posted by Eve
Did you enjoy reading Eve's Jamaican Curry Chicken Recipe? Well we enjoyed having you and would like to be friends!
This post contains affiliate links.