Are you finally ready to get serious about getting your lawn greener and healthier? See these basic grass care tips.
I spent years trying to figure out how to get rid of annoying weeds and get a healthy looking grass lawn—now I'm a bit of an agricultural maven. If you're struggling with your lawn year after year, use these five basic steps to achieving a lush, green, weed-free lawn. You must implement each step with consistency and be patient—with time you'll see positive results.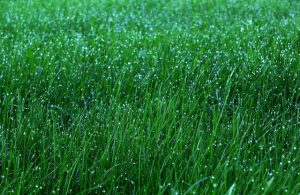 1. Understand Your Lawn
The first step to having a green lawn is to understand what makes your lawn tick. Grass is a plant like any other plant. It has roots that need nourishing and support. Understand that your lawn needs three basic things to stay lush and green: water, sun and quality fertilizer. These three elements work together to strengthen your grass roots so that they each blade of grass can thrive. If one of these elements isn't in the picture, it's difficult for the lawn to continue to grow healthy and green.
2. Treat with Fertilizer Starting in Early Spring
As soon as the last frost is over, it's time to start feeding your lawn. Fertilize it with a good lawn fertilizer. Pick the kind of grass fertilizer that comes in granules that you can spread evenly—granules are the best when it comes to coverage in my opinion. If you have a major issue with weeds each year, pick a good Weed and Feed fertilizer (granules that you can work into the dirt). Sometimes weeds grow year in and out because there are dormant seeds in the soil. Apply the granules exactly according to the instructions on the product bag and on your spreader. Always take that extra few minutes to read the instructions because it can make all the difference.
If you have spots in your lawn that are light or turning brown, add new grass seed in addition to the fertilizer. Water thoroughly right after the first feeding. Feed your lawn every 4-6 weeks after that all the way into the fall season. The way you treat your lawn in the fall will have an impact on how it develops in the early spring.
3. Water on a Schedule in the Summer
As soon as the temperatures start to hit about 60-65 degrees, it's time for more regular watering. Experts suggest watering at least twice per week for at least 15-30 minutes. The goal is 1.5 inches per week, which you can measure by putting a small tuna can near the watering area. Rainfall should take care of the rest, but if there is a long period of time without rain, add an extra day or two to the watering schedule. Use a water timer, hoses and sprinklers to ensure that the lawn is watered consistently.
4. Spray for Weeds Every Other Month
Unfortunately, weeds don't need that much to thrive. All they need is just a little water and sunshine. And they really love it when it rains. You have to actively spray for weeds while they're growing to keep them at bay. I suggest using an effective weed killer at least once every other month and a bit more frequently in stubborn cases. Use a product that you can spray evenly over the weed prone area. Don't overapply—again, take the time to read the label of your weed killing product for guidance.
An important note: Try different lawn-friendly weed products until you hit the sweet spot. I tried a number of different brands and formulations until I finally hit the jackpot and found a product called Ortho Nutsedge Killer that eliminated all of the weeds in my yard within days.
5. Mow Every 10-14 Days Instead of Every Week
Why recut an already low cut lawn? If the grass is still low, why cut it again? Maybe it's to always have that perfectly manicured look. But instead of mowing weekly, try a schedule of 10-14 days — especially if your lawn is struggling a bit at the moment (dry and brown). If you hire someone to mow, see if you can get them to come two or three times per month instead of weekly.
It takes time, patience and regular attention to get your lawn green, healthy and weed-free. It took me close to 10 years of trial and error to finally get an effective schedule together. Follow these basic steps to a greener lawn starting in the early spring of each year.
Posted by Louise
Photo credit: Flickr/Sam DeLong
Did you enjoy reading Five Basic Steps to a Lush, Green, Weed-Free Lawn? Well we enjoyed having you and would like to be friends!
This post contains affiliate links.