Flowers, whether indoors or out, definitely add a great ambiance to your home.  There are a vast variety of flowers to choose from for your flower garden. Here are a few key considerations to keep in mind before you begin flower gardening this year.
Annuals or Perennials?
First, decide whether you want to plant perennials or annuals. Perennials are flowers that will bloom for you every year and annuals bloom only once (you have to replant them every spring). So if you want to see the same flowers every year definitely plant perennials. If you are a person who enjoys change, you should choose annuals. Switch things up every year and try something new.
The Birds, Bees and Butterflies
Next, decide on the atmosphere that you're trying to create with your flower garden. Certain flowers attract a variety of different birds and insect. For example, if you enjoy the sight of butterflies and hummingbirds, grow flowers that produce nectar and flowers that are pollen-rich, like asters, fuschias and morning glory varieties. These types of flowers (nectar rich) can be found in both annuals and perennials. Keep in also that they will attract honeybees.
All the Colors of Nature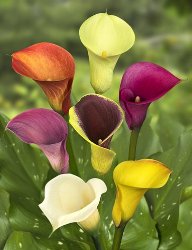 Lastly, decide on the color scheme for your flower garden. Focus on colors that will brighten your mood and make your backyard or patio look delightful, like reds, yellows, whites, purples and oranges. If you like pastel colors like lilac and light blue, then create a pastel flower patch that blooms in just those colors (try pansies, roses and calla lilies). If you happen to be a person who likes bold and dark colors, like deep reds, browns and black, then choose flowers that fit that color scheme (orchids, dahlias, irises and deep maroon sunflowers).
A Few Other Tips
Flower gardens are a beautiful accent to any home, whether they're indoors, on a patio or lining your backyard. There is no "true" guide to follow — you have to follow your own inspiration. Do a little research and find out what flowers do best in your particular climate region to ensure that they will bloom fully and stay fresh and beautiful for as long as possible. Peep in on your neighbors and ask them questions to get ideas for flowers to grow.
Most of all have fun. Flower gardening should not be a chore — it should be a delight; something to look forward to each day.
Posted by Eve
(Image courtesy Flickr; malikdhadha)
Did you enjoy reading Flower Gardening Tips? Well we enjoyed having you and would like to be friends!
This post contains affiliate links.