When the weather gets warm, who doesn't enjoy a little backyard fun? Playing fun games outdoors with your kids creates a lifetime of memories for everyone. Some of the best outdoor games were played in your childhood and in generations past, but they won't ever get old for kids. Try playing these fun outdoor games from your childhood with your young ones. A quick trip to your local dollar store will provide you with some of the necessary items you'll need to have a great day.
Water Balloon Fight!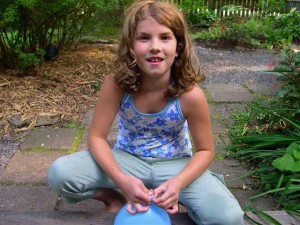 When it's hot outside and your kids tell you that they are "so bored," get them outside for a water balloon fight! Get as many balloons as you can and tell your kids to help you fill them with ice cold water. Next, break evenly into two teams (you can swap teams if you're the only adult, because you have an unfair advantage!). Draw a line in the middle of your lawn with a piece of string and play a make shift dodge ball game with the water balloons. Whoever lands the most water balloons on members of the other team wins! Set clear safety rules. The losing team has to pick up the pieces of balloons around the yard or you can all just clean up as a group. It's a fun and safe way to cool off on a hot day.
Play Ball!
Another fun game of the past that we all enjoyed is Wiffle Ball. It's a form of baseball that uses a light weight plastic bat and ball. The way the ball soars in the air when you get a hit is exhilarating—your kids will love it. Make the playing field as large or as small as you want. Make the bases out of odd, yet safe, items that are in your garage. It will be an awesome game and best of all you don't have to worry about anyone getting hurt, and all your windows are safe.
Slip and Slide!
One of the best water games from the past is the Slip and Slide. It's a long plastic runner that extends from one end of your yard to the next. Attach a hose to the slip and slide, turn on the water and start sliding! Some people say adding a bit of dish shop to the runner makes it easier to slide. Get a good running start and cruise your way down the slippery surface. It's a great way to cool off and have some excitement on a hot summer day. You might find yourself just as eager to use the slip and slide as your kids are (memories 🙂 .
Barbecue Time!
At the end of all this backyard fun how nice would it be to end the afternoon with the good old all-American tradition of hotdogs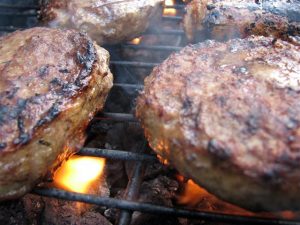 and hamburgers for dinner. Hot dogs and burgers are simple and quick to prepare outdoors on a grill (small or large). Eating the food outside together will be a memorable moment that your kids will always remember.
Need to slow down and spend some quality time with your kids? Make plans to enjoy next weekend with them outdoors and teach them these and other fun games from your childhood. As always, take all precautions to ensure that everyone has an enjoyable and safe time outside!
Posted by Lorraine
Did you enjoy reading Fun Games from Your Childhood to Play Outdoors with Your Kids? Well we enjoyed having you and would like to be friends!
This post contains affiliate links.