If you are like me and enjoy preparing homemade meals with fresh herbs, a mini greenhouse will allow you to have fresh herbs at your finger tips! With this small greenhouse in your home, you can grow your herbs year round.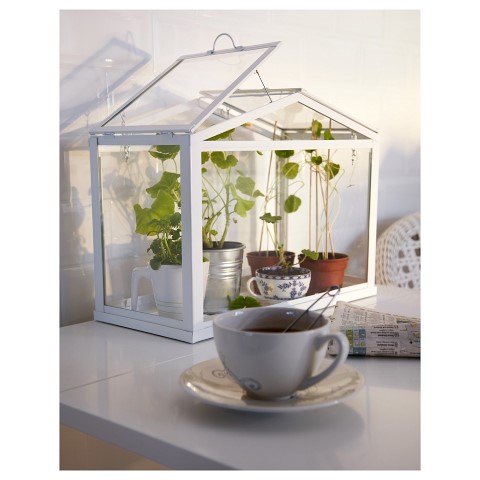 Gardeners, for years have been utilizing large outdoor greenhouses to grow a variety of plants, herbs and vegetables year round. So, it just makes sense to have a mini greenhouse inside your home that can be used for the same purpose. I particularly, enjoy growing basil, parsley, dill, rosemary, cilantro and thyme.
To me, one of the most important steps to growing your own herbs is using organic soil and organic non-GMO heirloom seeds. That way you have healthy plants that you can get new seeds from year after year. You can purchase these items online or at your local nursery. After these items (including a mini greenhouse) are bought, it is now time to begin. I prefer organic seeds and soil because I want to avoid harmful man made chemicals that are now being used to produce food cheaper and faster. I also believe that organic foods taste better.
If you like to cook gourmet with fresh ingredients, you'll save a lot of money each year by growing your own herbs. Just think of how many trips you make to the grocer's on a yearly basis to purchase your herbs fresh or dried in containers. I use to travel to my local grocers at least four time a month to buy fresh herbs. It was costly and time consuming.
So, one day while thumbing through a magazine I saw an advertisement for an affordable mini greenhouse, that was easy to assemble. I immediately purchased it. I obtained all of my organic material and awaited for the delivery of my mini greenhouse. I was so excited! Yay, it arrived early on afternoon and I was anxious to assemble it. I made sure that I followed the instructions properly. I then filled each small sized pot with soil and labeled each pot to ensure that when I choose herbs for cooking there were no errors to be had. I fit as many pots as I could inside the greenhouse. I placed three seeds in each pot. I then, watered all of the pots, adequately. The greenhouse should be near a window that gets plenty of sunlight.
It took less than a week for my seeds to sprout. I made sure to vent the greenhouse daily to allow air to circulate and the inside temperature to cool. I was so proud when my sprouts matured into full grown plants. Now, each year I try to grow different herbs to cook with. I no longer have to purchase herbs from my neighborhood grocer. It has been extremely convenient to have all of my herbs just steps away from me to cook with.
I highly recommend that you try a mini greenhouse in your home.
Posted by Lorraine
Did you enjoy reading Grow Your Own Herbs at Home with a Mini Greenhouse? Well we enjoyed having you and would like to be friends!
This post contains affiliate links.