Many of us are eagerly awaiting this week's Super Bowl game. You don't even have to be a fan of either team. It is just a great time to party with your friends!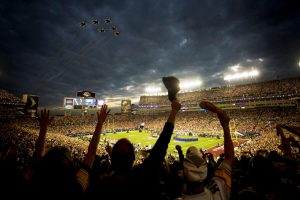 Not everyone has tickets to the big game, so my friends and I plan to watch at our local sports bar and possibly enjoy some alcoholic beverages. My tip to all who plan to have drinks at a bar or a friends house, is to PRE-PLAN everyone's trip home so that you can have a safe Super Bowl Sunday. My group of friends and I all agree to spend the night at one friend's home and not leave for any reason.
The entire country has strict laws on drinking and driving — one night of adult fun can impact your life forever.  So what we do as a group is meet at our friend's house who lives closest to the sports bar at a designated time. We then call a cab to take us to the bar and get the cab driver's cell phone number to call him when we are ready to be taken back to our friend's house. The sleeping arrangements come together — even if there are a dozen people there, it's just one night! We have done this for several years.
All we want is to have an enjoyable night out, watch the Super Bowl and enjoy each others' company. At the same time, remember the important motto: "Think Before You Drink."
Have a Great (and Safe) Super Bowl Sunday!!!!
Posted by Lorraine
Did you enjoy reading Have a Safe #SuperBowl Sunday with Your Friends? Well we enjoyed having you and would like to be friends!
This post contains affiliate links.