This recipe for strawberry banana muffins is super quick and easy. One day I had a hankering for something sweet. However, I didn't want to eat an unhealthy store bought treat to satisfy my craving. I made this recipe with fiber cereal, fruit and Truvia (a healthier sweetener). I hope you enjoy my recipe.
Ingredients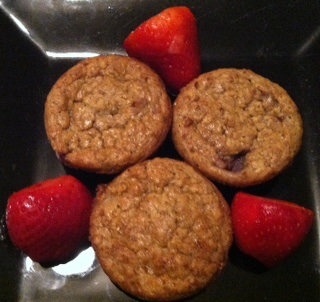 11/2 cups of crushed fiber or bran cereal
1/2 cup of Unbleached flour
1 egg
1 cup coconut milk
3/4 cup diced strawberries
1 ripe banana
1/2 teaspoon of Celtic sea salt
1 tablespoon of baking powder
1 teaspoon of vanilla extract
1/2 cup of Truvia
Instructions
Preheat oven to 350 degrees
In a large mixing bowl, combine and mix dry ingredients
Flour
Cereal
Salt
Baking powder
Truvia
In a medium bowl, combine wet ingredients and whisk together
Egg
Coconut milk
Vanilla extract
Mash ripe banana with a fork and add to wet ingredients
Mix both wet and dry ingredients in the large bowl
Gently add and fold dice strawberries to the mix. (Mix should be lumpy)
Grease muffin pan with a non stick cooking spray or use cupcake baking cups
Do not fill to top
Bake 20-30 minutes
The strawberry banana muffins are done when you can place a knife in the middle of a muffin and knife comes out clean.
Enjoy!!!!
Did you enjoy reading Healthy Homemade Strawberry Banana Muffins? Well we enjoyed having you and would like to be friends!
This post contains affiliate links.