During the pandemic, I think many of us have started to neglect certain matters of… hygiene. One in particular for me is not getting regular pedicures because of concerns about spending a long time indoors at a public business. So my feet have been struggling a bit, become flaky, dry and crackly.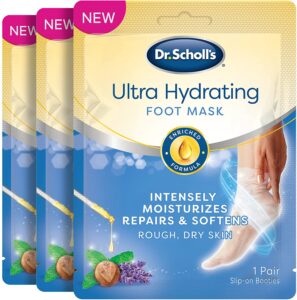 I decided to try these hydrating foot peel masks, and I'm so glad I did. I followed the directions, leaving the masks wrapped around my feet for a bit longer than suggested. Meanwhile, I kicked my feet up and relaxed, watching something on streaming. When I took them off, I had layers of old skin literally peeling off of my feet. It was kind of disgusted but very satisfying at the same time. The result was the very smooth, supple feet I had in the past. I will purchase them again in the future, 5 stars!
Did you enjoy reading
Help for Dry, Crackly Feet – Dr. Scholl's Ultra Hydrating Foot Peel Mask
? Well we enjoyed having you and would like to be friends!
This post contains affiliate links.