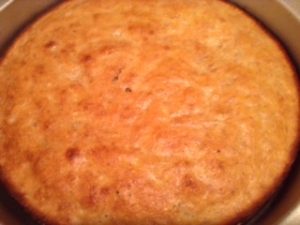 I love baking for my friends and family. Especially, in the winter months. An added bonus is the lingering aroma of freshly baked goods, that permeates throughout my home. What everyone should realize is that, baking delicious desserts doesn't always require purchasing expensive ingredients. For example, just last night, I realized that my bananas were turning brown. So, instead of throwing them away, I decided to make a homemade banana cake to enjoy with a freshly brewed cup of coffee. This recipe is super easy and quick to prepare.
Ingredients
2-3 Ripe Bananas
1 Cup Flour
1 1/2 Teaspoons Baking Powder
2 Teaspoons Butter
3/4 Cup Sugar
1 Egg
1 Teaspoon Vanilla Extract
1/2 Teaspoon Salt
Directions
Preheat Oven 350*
Now, in a medium size bowl add peeled bananas and mash with a large fork. In a large bowl, add sugar and butter. Blend until creamy.
Add egg, vanilla and bananas and stir together until blended. Add flour, baking powder and salt to the batter.
Pour batter into a nonstick cake pan.
Bake for 15-20 minutes or until golden brown (you will know it's done when you insert a butter knife into the middle of the cake and knife comes out clean)
Enjoy your homemade banana cake!!!
Posted by Eve
Did you enjoy reading Homemade Banana Cake Made Easy? Well we enjoyed having you and would like to be friends!
This post contains affiliate links.