Homemade chimichangas are one of my favorite recipes to make at home.  They are delicious little flaky pockets filled with Mexican inspired ingredients.  I can remember the first time that I tried them.  It was a cute Mexican restaurant located on West 4th Street in Manhattan.  It was love at first bite!  I was totally surprised to find out, later on, that they were not originally an authentic Mexican dish.  I also, realized that there is no wrong way to make them.  Chimichangas are basically burritos that are deep fried.  However, I do my best to stay healthy, so needless to say, that I am not keen on deep frying anything these days!  I figured out a healthier version that maintains its flavor and is very satisfying.
Ingredients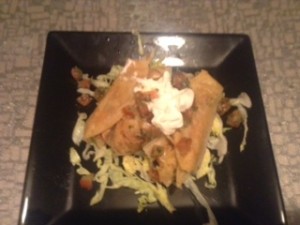 8-10 Tortillas
1- 2 Skinless Chicken Breast
1/2 Cup Mozzarella Cheese ( or cheese of your choice )
1/2 Cup Refried Beans
1/4 Cup Finely Diced Mushrooms ( optional )
1/2 Cup Finely Diced Onion
1/2 Cup Finely Diced Green Pepper
2 Tablespoons Chipotle Peppers In Adobo Sauce
2 Teaspoons Garlic Powder
2 Teaspoons Onion Powder
1 Tablespoon Cumin
2 Teaspoons Salt
1/4 Cup Vegetable (or Peanut) Oil
4 Tablespoons Water
Instructions
In a large non stick skillet, set heat on medium, add two tablespoons of water and add chicken breast to thoroughly cook breast(s) for about 3-4 minutes each side.
Remove breast from skillet and shred breast in a large plate using two forks.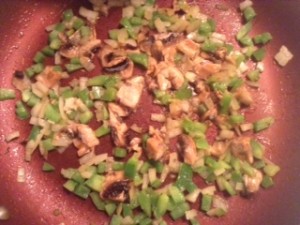 Now, on medium heat, add to skillet:
Onions
Green peppers
Mushrooms
Sauté until soft
Add shredded chicken to skillet and add:
Garlic powder
Onion powder
Chipotle
Cumin
Salt
Water
Combine well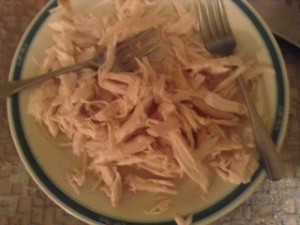 Simmer for about 3 minutes and remove from heat with lid on
In a large skillet place 1/4 cup of vegetable oil on medium high heat
Assemble the chimichangas.
First, warm tortillas in microwave for 30 seconds. Then, spread approximately 1 teaspoon of refried beans on a tortilla,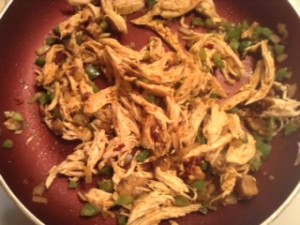 add cheese and 1 tablespoon of chicken mixture.  Next, fold tortilla in half, then fold in the sides and roll over. Repeat.
Place Chimichangas in oil, folded side down until golden brown on each side.
Optional Garnishes
Sour cream
Salsa
Pico de gallo
Guacamole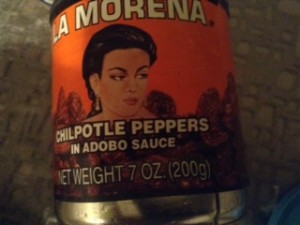 Iceberg lettuce (shredded)
Enjoy this Homemade Mini Chimichangas Recipe!
Posted by Eve
Did you enjoy reading Homemade Mini Chimichangas Recipe? Well we enjoyed having you and would like to be friends!
This post contains affiliate links.