Here's a simple and quick recipe for homemade red wine vinaigrette.
I rather enjoy salads on a daily basis. I use to add creamy dressings, such as ranch to enhance the salads taste. I was amazed one day when out of curiosity I read the labels nutritional facts. I thought I was eating healthy because of the green salad that I was consuming on a daily basis. I was so wrong, the amount of fat, sodium and preservatives in the store bought dressing was astounding. What I then realized was how the dressing was destroying the benefits of my eating healthy leafy greens. I thought myself such a fool! I decided to make my own salad dressing from simple ingredients that I had in my cupboard. To my amazement, I only used five ingredients to make the best salad dressing of my life!!! Here's my recipe for my homemade vinaigrette salad dressing.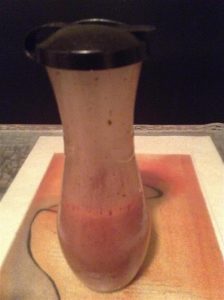 Ingredients
Red wine vinegar
Salt
Olive Oil
Italian seasoning
Water
Instructions
In a container with a lid combine:
1 cup olive oil (brand of your choice, I prefer extra virgin olive oil)
1/2 cup red wine vinegar ( I like vinegar )
2 teaspoons of Italian seasoning
1-2 teaspoons of salt
1 tablespoon water
Shake contents vigorously. Taste before applying to your salad to ensure it suits your taste. Add more ingredients of your liking such as chopped garlic, dijon or spicy mustard to add to flavor. Enjoy your homemade red wine vinaigrette!!!
Posted by Eve
Did you enjoy reading Homemade Red Wine Vinaigrette? Well we enjoyed having you and would like to be friends!
This post contains affiliate links.