As far back as I can remember, I have enjoyed a hearty stew during the cold winter months. I like to make a homemade Spanish stew that consists of Spanish spices and some ethnic vegetables. This is a filling stew that can be enjoyed for either lunch or dinner.
Ingredients
2 Lbs Chicken Thighs
1 Yellow Plantain
2 Large Potatoes
1 Medium Yuca
1 Large Corn On The Cob
2 Packs Of Sazon ( I use Sazon Goya made with Coriander & Annatto )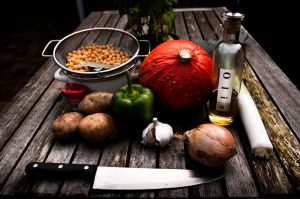 1 1/2 Tablespoons of Adobo ( I use Goya brand Adobo )
1 Chicken Bouillon Cube
2 Medium Onions
1 Large Red Pepper
4 Cloves Of Garlic
1 Bush Of Fresh Cilantro
1 8 oz Can Of Tomato Sauce
3 Tablespoons Of Olive Oil
1 Tablespoon Of Cumin
Instructions
Place a large stew pot on the stove
Clean your chicken thighs (leave skin on, it adds flavor, discard skin after stew is completed) Add 6 cups of water to the pot ( enough to cover the chicken ) Add the chicken bouillon
Boil chicken on high until chicken is cooked
While chicken is cooking you can now make the Sofrito. Sofrito is a secret ingredient to a lot of Latin Caribbean dishes. It is a sauce made of tomatoes, onion, peppers, garlic, and herbs.
Sofrito Instructions
In a large food processor place:
Onions ( cut into quarters )
Peppers ( cut into quarters)
Garlic ( remove peel )
Tomato Sauce
Sazon
Adobo
Cumin
Olive oil
Cilantro ( make sure to rinse cilantro under cold water )
Blend ingredients together at a high speed & set aside.
Peel and cut the:
Yuca ( cut into 1/2 inch slices )
Potatoes ( cut into large cubes )
Corn On The Cob ( cut into 1/2 inch slices )
Yellow Plantain ( cut into 1/2 slices )
Now, add all of your Sofrito mixture to the pot with chicken (make sure chicken is thoroughly cooked ) Add your yuca, potatoes, corn and plantain to pot.
Stir ingredients gently.
Place on lid and heat on medium low for 30-45 minutes to allow ingredients to simmer ( stir occasionally ) or until potatoes and yuca are fork tender.
Serve your homemade Spanish stew in a large bowl with a sprinkle of fresh lime juice on top.
* You can also use pork neck bones or pork short ribs, instead of or with the chicken thighs. * I enjoy fresh cubed slices of avocado as a garnish.
ENJOY!!!
Posted by Eve
Did you enjoy reading Homemade Spanish Stew? Well we enjoyed having you and would like to be friends!
This post contains affiliate links.