If you enjoy homemade tomato soup, I have an awesome recipe for you to try.  It does not cost much and any extra soup can be frozen for later consumption.  This recipe is a chunky version but you can make a less chunky version by simply allowing it to pulse in your food processor longer.
Ingredients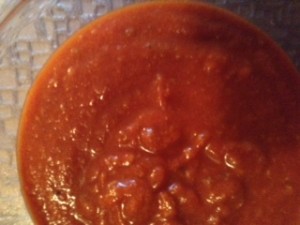 3-4 Lbs Roma Tomatoes
2 Tablespoons Extra Virgin Olive Oil
1-2 Teaspoons Salt
1 Teaspoon Black Pepper
5 Large Cloves Garlic (grated)
1 Tablespoon Basil (dry)
1 Tablespoon Oregano (dry)
1 Teaspoon Red Chili Flakes (optional)
1-2 Tablespoons Cilantro (fresh)
1 Teaspoon Onion Powder
1 1/2 Cups Water
Directions
Steam your tomatoes in a colander for 5 minutes.  Set aside and allow it to cool. Then gently peel off skin.  Removing the skin is important because if this step is avoided the skin will roll up into a "needle" and ruin your soup.
Place tomatoes in a saucepan and add spices.
Allow tomatoes and spices to simmer on low heat for 15 minutes.
Carefully, pour mixture into a food processor and pulse until tomatoes are broken down.
Return mixture to saucepan.
Slowly, add 1/2 of a cup of water at a time and gently stir.  Add more water, if you prefer a thinner soup. Taste to see if more salt is required.
Allow soup to simmer on low heat for 15-20 minutes.
Serve soup with garlic bread or French bread for a light afternoon lunch.
If you like a more creamier soup add a spoon of sour cream or heavy cream to each serving.
If you love tomatoes as much as I do, you might find yourself addicted to this healthy and simple homemade tomato soup. Enjoy!!
Posted by Eve
Did you enjoy reading Homemade Tomato Soup? Well we enjoyed having you and would like to be friends!
This post contains affiliate links.