If you have pets or just prefer natural solutions, you probably want a non-toxic cleaner for your carpets. Many people don't understand the effects that harsh chemicals can have on your indoor air quality and overall environment. Thankfully, there are a plethora of products available that are made with all natural ingredients and are safe for both humans and pets. Here are a few of the best products to safely clean and freshen your carpet naturally without having to use a rug shampooer.
Sometimes you just want a product that you can shake over the carpet to freshen and clean, then vacuum. This Eco-me carpet freshener is made with 100% all natural products and is safe for pets as well as humans.  The blend of citrus and sage provides a pleasing, calming scent to add to the air in your home.
Out! Stain and Odor Remover is a popular and highly rated product that you're definitely going to want to have on hand if you have a pet that sprays or has accidents on your carpet or upholstery. Just spray the area liberally, and the smell seems to evaporate. It's made with a n

atural beneficial bacterial enzyme formula that attacks the pet odor and freshens the area in the process. You could also spray your carpets with it every week for a quick cleaning/freshening before you vacuum.
A lot of people like Tweetmint cleaner because it can be used to both clean carpets and eliminate pests, like spiders and ants. It can also be used for cleaning more than just carpets in your home. It comes in a concentrated bottle, so while it's a bit costly, it will last for months. Just add a few capfuls to your spray bottle and add a few coats to your carpet.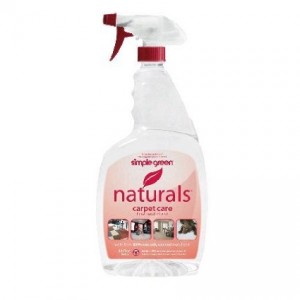 This product comes in a convenient spray bottle.  It is also made from 100% naturally sourced ingredients. Simple Green Naturals Carpet Cleaner a spot-cleaner, so this product will work for you if you have children or pets that soil your carpets.
Remember why you chose carpets for your home: so that your family and pets can feel comfortable playing, sitting or even laying on the floor. These products will help you to clean and freshen your carpet naturally and eliminate the need to rent an expensive rug shampooer.
Posted by Eve
Image courtesy Flickr; advaits
Did you enjoy reading How to Clean & Freshen Your Carpet Naturally Without a Rug Shampooer? Well we enjoyed having you and would like to be friends!
This post contains affiliate links.