Here are some thoughts on how you can give your child the best chance at succeeding in school.
Your child's performance in school now can have long-term effects on his or her adult life. There are a few ways to ensure that you and your child navigate the current school term with great success. Some of these tips may seem challenging at first, but with perseverance each day will become easier.
Make Sure Your Child is Well Rested
When you send your young one to school with an inadequate amount of sleep it can interfere with their learning process. The child will become frustrated, cranky and/or sleepy by days end. All of this will block and hamper what the teacher is attempting to teach your child. By making sure that your child has a minimum of 8-10 hours of sleep on school nights is the first vital key to their daily success. It is best to maintain a routine of bedtime hours for your child. You may get some resistance in the beginning. Although, children do thrive with consistent behaviors and habits. Once their nightly routine is set in stone you will soon see a difference in their attentiveness and attitude while at school. As a result your child's teacher will notice the difference and appreciate your efforts.
Limit Sugar and Caffeine Intake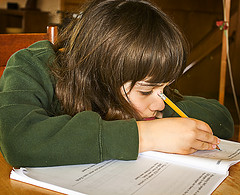 There has been plenty of research on the effects of sugar and caffeine when introduced into a child's daily diet. So, if your child is ingesting high amounts of caffeine and sugar on a regular basis, you may want to switch to healthier alternatives. If you give it a thought, it seems to be normal to start your child's day with milk, cereal and a bit of orange juice. Yet, when you break it down all of those products contain high amounts of sugar. This will make your child begin the day with a sugar "rush". The child's mood and attention span will soon change as the sugar "rush" wears off.
Instead, try making your child a breakfast consisting of eggs, a side of fresh fruit and a bottled water or a freshly-made smoothie. The eggs are loaded with protein, the fresh fruit contains natural sugars and the bottled water provides them with hydration.
As for their school lunch, many parents opt for the kids to purchase lunch at school. It is important to know the school menu to ensure that they are eating the healthiest lunch possible. If your child has food allergies or issues contact your school to discuss what can be done. For those parents who prepare lunch on a daily basis, try switching to a more filling and healthier food. For example, avoid giving your child a juice box or caffeine-filled soda — instead give them a bottled water or freshly pressed juice with no added sugar. This will again keep them hydrated through the day. Instead of white bread use a whole grain bread to prepare sandwiches. As for a snack, try giving them celery sticks and peanut butter. With just a few changes to your child's daily eating habits you can give them the brain power and energy to make their learning easier.
Stay Involved with Class Work, Homework and Projects
Make it a daily habit to give assistance and review your child's homework every day. Be sure that they are comprehending their home work and school work. Remember, to have patience with them. Show them understanding. They have extremely long school hours and tire easily. Besides, stressful situations affects them as they do us as parents. Encourage them to do their best and complete their homework with care, but don't push them to the point where they'll be overwhelmed and stressed out every day.
Start with these basic tips for how to give your child the best chance at succeeding in school. In my opinion, a child's path to success begins at home. The parent who is actively involved with their child's nutrition and efforts at school is the parent whose child will have a greater chance at success — not just in school but in life as well.
Posted by Eve
Did you enjoy reading How to Give Your Child the Best Chance at Succeeding in School? Well we enjoyed having you and would like to be friends!
This post contains affiliate links.