We've all had those moments of craving a pint of cold ice cream on a hot summer day or night. If you don't really feel like running to the supermarket to pay $5.99 or more for a name brand ice cream, try making Ice Cream in a Bag. This is a simple way to make homemade ice cream without buying an ice cream maker.
Making ice cream in a bag is also great because you get to add your own ingredients. You can use a sugar substitute like Splenda or Stevia instead of white sugar and add sugar-free cookies and fresh fruits. You can also reduce sugar intake by using Half and Half instead of regular milk. The ideas are endless.
On this particular occasion, I decided to make chocolate ice cream with chocolate chip cookie pieces and strawberry ice cream with shortbread cookie pieces (see pics).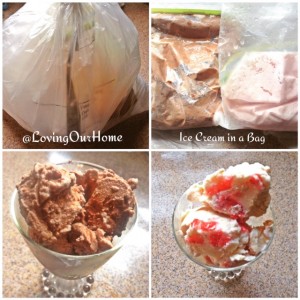 What You'll Need…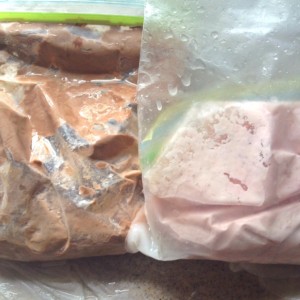 About a cup of Half and Half or heavy cream (heavy cream is probably best for creamy ice cream, but Half and Half is the lowest in sugar)
The added ingredients you want (such as sliced frozen strawberries, cookies, Oreos, a bit of vanilla extract or vanilla beans for vanilla ice cream or a scoop of chocolate powder to make chocolate ice cream)
One tablespoon of Splenda, Stevia OR regular sugar
1 or 2 small,

strong

zip lock bags
2 large,

strong

zip lock bags
At least 2 cups of ice
3 tablespoons of Kosher Salt
(Whatever you do, don't add any water to the small bag full of cream! That makes it too icy.)
Instructions
Add your half and half, Splenda (or sugar), and all of your other desired ingredients to the small Ziploc bag and seal it securely. You might also add a tiny sprinkle of salt to the cream to bring out the flavor more. Reinforce with an additional small ziploc bag if you think it's needed. Shake everything together thoroughly and make sure that there aren't any leaks.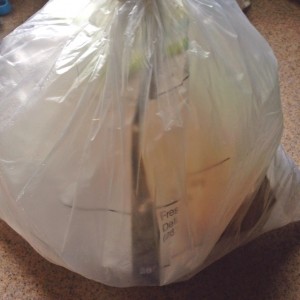 Now get the large Ziploc bag. Add ice along with the salt. Reinforce it with another large Ziploc bag just in case.
Place the small bag of cream inside of the larger Ziploc bags and zip those closed securely as well. Shake vigorously for 10-15 minutes. (The shaking process takes some time, but you can look at it as a moment to get some exercise and burn off some calories before you enjoy your cold treat 🙂
Scoop the ice cream out of the Ziploc bag, add any toppings you like and enjoy!
Make this Ice Cream in a Bag whenever you get a craving for something cold and sweet!
Posted by Jade
Did you enjoy reading How to Make Homemade Ice Cream in a Bag? Well we enjoyed having you and would like to be friends!
This post contains affiliate links.