I love to get my nails done at the salon or to do them at home using press on nail kits. My favorite thing is a pretty french manicure. But the problem with using at-home nail kits is that when you wash your hands, wash the dishes, or take a shower, the nail glue starts to loosen and the nails eventually fall off. The kit I buy (shown to the right) lasts for about a week before the nails start popping off one by one, which can be an embarrassing situation in public! So what can be done to protect your pretty nails when you're cleaning or washing up?
Here are a few ideas I found when browsing Amazon that might work for your nails:
Nail Protector Clips
There are a variety of products on the market that allow you to put your fingers inside of clips so that you can soak off nail polish or gel nails. These Plastic Nail Art Soak Off Clip Caps look like they would help shield your nails from excess water when showering. It might be a little awkward using your hands while wearing these, but if they can lengthen the time my nails will stay pretty, I'll give them a try. Here is another even more affordable nail clip cover option you might want to try.
Rubber Finger Gloves
When you use regular gloves, it causes your hands to shrivel up and water sometimes gets trapped under the sleeve, which defeats the purpose. These rubber finger gloves snugly fit over each finger to protect them when you're cleaning up around the house. When you're finished with them, just toss them in the trash.
Finger Guards
These Finger Guards are normally used for sewing and crafting, but they look like they would also do a good job of protecting your french manicure, gel nails or press-on nails while you're cleaning up around the house. They have a snug fit and a good grip. They are inexpensive at around $3 each, but there are only 3 per pack, so you'd have to order at least 4 to cover all of your nails.
Long Waterproof Cleaning Gloves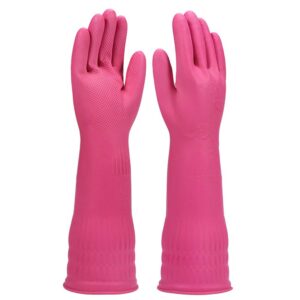 Another possible solution to protect your pretty nails when cleaning is to get a pair of long waterproof cleaning gloves. These gloves are extra long so that they almost fit over your elbows. That way you won't have to worry about water getting inside of the glove when you're washing the dishes. You could also just use a regular pair of rubber gloves and secure it at the bottom with a rubber band (be careful not to put it on too tight).
I hope these simple, inexpensive products will help you keep your nails pretty for weeks!
Posted by Jade
Images courtesy Amazon
Did you enjoy reading How to Protect Your Pretty Nails When Cleaning? Well we enjoyed having you and would like to be friends!
This post contains affiliate links.