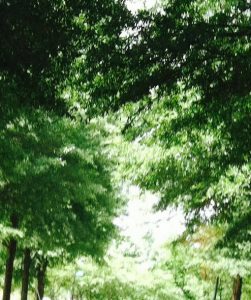 I sincerely enjoy returning to the childhood home where I was raised to visit my parents. There are so many memories packed into every inch of that house. For example, when I look at the stair case, I can vividly remember sliding down those same stairs on a cardboard box, having fun for hours.
However, there are certain realizations, as adults, that we need to keep in mind when returning to our parents home. In this economic climate some of us need to return to our parents home due loss of employment, home or spouse. First of all, I feel so fortunate to have the opportunity to visit the home where I had so many minor and major life experiences. Yet, on my previous visit to my parents, I realized that I needed to change my mind set when visiting my parents. I noticed that although their energy and thrust for life was still present, there was something different about them. My mom, for instance, did not cook the same and my dad no longer enjoyed his outside chores. My mom instead, chose to either order out or cook a meal in the microwave. While my dad had hired landscapers to do all of the outside chores. Seeing that took me for a loop. Growing up my mom cooked three homemade meals a day including desserts and my dad lavished on his lawn, garden and flowers. I then opened my eyes a little wider and realized that after all of the years that they both had taken care of their children and instilled in all of us a sense of duty and pride in our accomplishments, they were tired. Tired of having to teach, listen, cook, work hard to show us how to properly run a happy and prideful family.
Now, when I visit my parents with my mate and children, I make sure that everyone is actively involved with the daily chores. Such as, cooking, cleaning and removal of garbage. I basically attempt to give them a break from doing these chores while my family visits. After all, we are the ones adding to the untidiness to the house. It pains me now to think of how many meals were cooked for me, as an adult, while I sat down in the living room waiting to be told, by mom, that dinner was ready. Me and my family now instruct her to sit and wait to be called for dinner. Of course, she is never to far from the kitchen to ensure that I am precisely following her recipes!! As for dad, if there were any chores he wanted done outside on the property, we all pitched in, while again he sat and watched making sure it was done the way he wanted.
I guess my best advice, is to make yourself a commodity. In other words, PITCH in! No adult lives for free, so if you are moving back home, any income you bring into the home, your parents should most definitely receive a percentage. If you are visiting, make a trip to the grocers to buy all of the necessary foods that you or your family enjoy. Don't just sit on the couch, ask your parents if they need anything done in or outside of the home. I can say that my parents enjoyed my family more because we truly acted like a family. We also bonded in more ways because we were all actively enjoying one another's company. As our parents age, they appreciate any and all help given.
I hope that this advice about returning to your childhood home has made someone re-evaluate their parents and show more appreciation to them.
Posted by Lorraine
Did you enjoy reading Returning to Your Childhood Home As An Adult? Well we enjoyed having you and would like to be friends!
This post contains affiliate links.