If you're the coach of your child's sports team or you're the captain of a team at work or for intramural fun, here are a few ideas for huddles that your team can implement as motivation at practice and games.
A group huddle is a time for a team to gather close together in a circle to discuss and upcoming play or move in a competition. It is most common in sports events. A football coach named Amos Alonzo Stagg created the huddle in 1896 as a way of blocking out the racket from the crowd right before a play. The huddle is also a way to assure that all team members are on the same page and to get everyone motivated to do a good job.
Tell a Motivational Story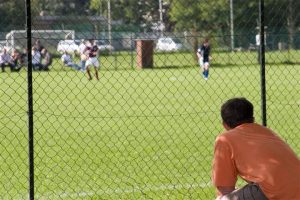 If you have ample time, tell a short story that will help to motivate the team during the huddle. The story can be funny or serious, but it should definitely have an educational or motivational value. You can even leave the story open-ended or rhetorical so that the members will think about the answer before going out on the playing field. If you are the coach, keep a repertoire of reflective, inspiring stories for your team on hand.
Change Up the Huddle Leader
Don't always just let the coach or team captain say something in a huddle. Switch it up from time to time. Allow individual team members to give the short motivational speech or start a "call and response." This will help to get everyone involved and make each team member feel equally important to the team's purpose. Encourage each member to be creative and think of catchy phrases and chants to use in the huddle.
Also, decide on what you will all say at the end of the huddle to signify that you are ready to go play. For instance, "Go team" is a popular saying, but you can also yell out the team motto or mascot ("Wolves!").
Handshake
Have a team meeting to decide on a secret handshake that you all will use during games. This might seem like a minor detail, but something as small as a handshake could help to unify a team. Make sure every team member is "in the know" on the handshake or else you will look disorganized. Brainstorm some fun hand signals, slaps, and claps that you can integrate into a custom handshake for team members to use during games. Rehearse it in practice, just as you would a play.
Get Nice Team Shirts to Boost Morale

Have custom team shirts made for your members to wear outside of games and practice. These should be good looking shirts that each member is proud to wear. Have each member wear his shirt on game day to show your team unity.
Use these ideas for huddles and team motivation to help take your squad to the top!
Posted by Jade
Did you enjoy reading Ideas for Huddles and Team Motivation? Well we enjoyed having you and would like to be friends!
This post contains affiliate links.