Growing your own food is now more popular than ever before. Unfortunately, not everyone has the outdoor gardening space to do so. If this is your dilemma, transform an area inside of your home to grow some of your very own vegetables for family meals! And you don't really have to spend a lot of money to do so. A one-time investment of about $75 will continue to bring you benefits well into the future, and you might even inspire your family and friends to do the same in their homes.
What to Grow…
When growing indoors, you have to choose crops that won't overwhelm your space. Some good choices are collard greens, spinach, peppers, carrots, potatoes, beans, peas, radishes, strawberries, and herbs (cilantro, oregano, basil, rosemary, etc). Try to choose foods that you buy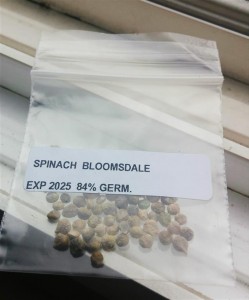 and eat on a regular basis. It's important that you plant heirloom seeds — they are handed down generation after generation and grow successfully without much human intervention. You can get a small pack of seeds for about $25 here.
A note about seeds: A lot of foods are now being manufactured with genetically modified organisms or GMO.  Genes from the DNA are extracted and artificially forced into the genes of unrelated plants to make them resistant to bugs and disease. It also makes veggies grow faster, to yield more food for the farmer. Avoid foods produced in this manner as they haven't been proven 100% good for humans. Starting an indoor organic home garden can be your first step to eliminating GMO foods from your diet.
Preparing the Area
The most important part of growing a vegetable garden indoors is choosing the best location. Your vegetable garden needs as much direct sunlight as it can get, so pick a window sill that gets plenty of sun. Ideally, you want the sun to shine on your indoor garden for at least six to eight hours every day. Clear the area and decorate it with an assortment of planters of different sizes (you can find some at your local dollar store). Place them on racks to elevate them in front of your window or use hanging baskets. Your investment here will be about $10-$20 depending on how many veggies you want to plant.
If you have a dearth of sunlight to your home or apartment, there are also affordable grow lights that can be found on the Internet. They keep your soil warm. Just take note that they will increase your electric bill, so use the sun whenever possible.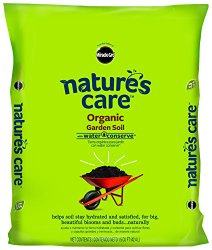 Your Soil
The next point that you'll have to address if you want to grow vegetables inside your home is the quality of the soil. For an indoor vegetable garden, invest in really good soil to ensure that your plants get as much food and nourishment as possible. Get a bag of top soil and mix it in with a quality (preferably organic) soil that's made with plant food like this one. Expect to pay about $15 or more total for soil. You will be happy you invested in the good stuff when you start to see the results.
Planting the Seeds
When the soil is in place, start poking holes in your soil for planting your veggies. Don't spend too much time worrying about the seeds being perfectly placed — the general rule of thumb for larger seeds is to add about two or three seeds per hole. Each seed pack has instructions for how far apart to plant each seed, because many varieties need room to grow. For smaller seeds, like carrots, poke plenty of holes in the dirt and sprinkle them fairly liberally. Another rule of thumb is that the depth to plant the seed should be about 3 times its diameter.
Quick tip: Keep the same type of plant in each planter; for example, don't plant strawberries with potatoes.
Water and Watch it Grow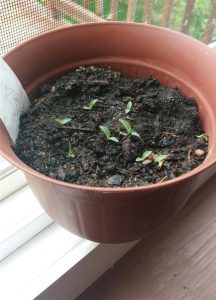 Once you have your seeds in place, it's mostly a waiting game. Get a watering can and keep it right near your indoor vegetable garden. Water your planters daily at around 9 or 10 am each morning. The germination time for each type of seed varies, but you'll generally start to see some sprouts after about 7-10 days. The time to ripe vegetables generally takes two or more months.
Growing your own indoor garden is going to save you a lot on grocery bills on a monthly basis, and it only requires a little bit of money, effort and planning. You will especially feel a sense of pride when you eat the items that you have grown from seeds. An added bonus is that tending to your garden daily can also become a stress reliever.
Happy Growing!
Posted by Eve
Did you enjoy reading Indoor Vegetable Gardening Tips? Well we enjoyed having you and would like to be friends!
This post contains affiliate links.