A simple process for how to kill fleas in 24 hours or less.
People get squeamish when they learn that their animals are carrying around fleas. It's tough to deal with the idea that fleas, flea larvae, and flea eggs are probably everywhere in your house — the carpets, the couches where your cats jump on and even your bed.
Before you panic and lock yourself in the closet, just calm down, take a breath and get a few supplies. Here is the best way to deal with a possible flea infestation (based on my own past experience with the issue):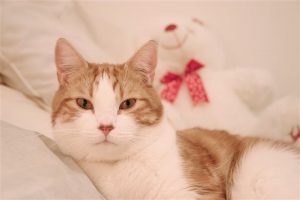 1) The first thing you want to do is treat the cats. What's the point of cleaning up your house if your pets are just going to go right back to the area and sit down to spread more bugs? Don't bother with cheap flea powders and collars; go right to what you know will work: a spot-on product like Revolution or a similar brand with good reviews. These products enter the pet's blood stream to kill all unwanted parasites that bite your pet. Fleas don't stand a chance. If you prefer a natural solution, try washing the pet with blue Palmolive dish washing liquid — fleas hate it. But I have to say, in my experience natural remedies aren't as sure a thing as using Revolution or another spot-on solution.
2) Throw all sheets, covers, and clothes that could be infested in the washing machine and wash on a hot cycle a couple of times. You may even just want to trash them if you think they are really infested.
3) Vacuum everything including your carpets and couches thoroughly and THROW THE VACUUM BAG OUTSIDE WHEN FINISHED.
4) Use a Flea Killing Spray made for carpets and upholstery everywhere, beds, carpets, etc. This will help get rid of the adult fleas.
5) Lock your cats or dogs up in a room that doesn't have any carpet or couches, and make sure you open a window. Even better if you only have a few pets, take them for a long ride around town with you or to a friend's house who has an isolated room with no carpets. You don't want your pets having the possibility of inhaling the fumes from the poisonous flea bomb you will set off.
6) Finally, set off several good flea bombs in your home and leave the house for 5-6 hours or more. Once that flea bomb does its job you are going to be in the clear, so make sure you get enough of them to cover your entire house.
The key for how to kill fleas in 24 hours or less: don't buy cheap flea products — make sure you invest in good stuff so that you won't have to do this all over again. You will probably end up spending about $25 or $30 for the cat treatment depending on how many cats you have and $30-$40 for the bombs and spray. That $70 is well worth the peace of mind you'll get knowing that your home is flea-free again.
Posted by Jade
Did you enjoy reading How to Kill Fleas in 24 Hours or Less? Well we enjoyed having you and would like to be friends!
This post contains affiliate links.