Are your eyes and hands glued to your phone most of the day? Here are some thoughts about the possible effects of text messaging and using social media too much.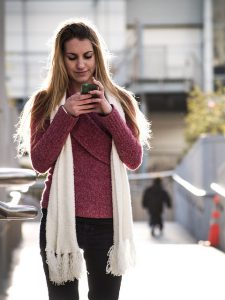 Most people look at text messaging as a blessing because our time is precious — we don't always have the luxury of picking up the phone and having a long conversation with a friend, brother or sister about how our week went. If you call a co-worker simply to tell him "I just emailed you the report," you might get roped into a lengthy conversation about what the boss did yesterday.
So now, all you have to do is use your text message phone service to drop a note, and your job is done. Have to wish someone Happy Birthday? You no longer have to make a 15 minute long call or rush them off the phone. Just send a text message and you've done your part.
But there is a downside to using text messaging and social media as a replacement for human contact. Here are a few possible long term effects from text messaging and using social media too much.
Disconnect with Friends and Family
When you use your text message phone features and social media apps all of the time, you may start to experience a disconnect from the people you love. Since you never speak to them on the phone, over time you may start to distance yourself from your friends, family, and loved ones who live far away from you.
Sometimes you just need to hear someone's voice. There is nothing quite like speaking to someone, because you can gauge their mood better. Your friend might text message phone you telling you that she's fine, but in reality she's crying on the other end. Instead of a text message, a phone call will help you determine her mood and possibly give her the consolation and conversation she really needs to get through the day.
Thumb and Eye Issues
As text message phone use increases over time, people may start to feel the physical effects of constantly using their thumbs to type messages on tiny keyboards. If you send 20 text messages a day, with 160 characters each, over the next 5 years, you will have pressed your thumbs over 5.8 million times! All those presses are wearing on your thumbs over time. So you may want to think about that as you type a 10 page text to your friend about the guy you met at the party last night.
Looking at a cell phone screen can also cause problems with your eyesight. Adjusting your eyes to see very small letters and words on a fluorescent screen for long periods of time can cause a strain on your eyes.
You Miss Life and Possible Connections with New People
I was once walking through a train station and just about every person that I passed had his or her head down looking at a cellphone. When you're addicted to texting and social media, you run the risk of missing out on connecting with new people out there in the world. You never know if that person you passed while focused on your phone could have been one of your soul mates.
If you use a text message cell phone, do a self-evaluation to see if you're use can be classified as addiction or obsession. Don't allow a piece of technology to negatively affect your healthy or your relationships with others.
Posted by Jade
Did you enjoy reading The Long Term Effects of Text Messaging & Social Media? Well we enjoyed having you and would like to be friends!
This post contains affiliate links.