This is a delicious dish to make and rather simple to prepare. You can use ground beef, turkey, pork or chicken when making your meatballs. The meatballs and sauce in this recipe for Meatball Stroganoff with Rotini Pasta — full of herbs. #YUM
Ingredients for Meatballs
1 Lb Ground Beef
1 1/2 Tablespoons Basil (dried)
1 1/2 Tablespoons Oregano (dried)
1/2 Teaspoon Rosemary (dried)
1/2 Teaspoon Salt
1/2 Teaspoon Pepper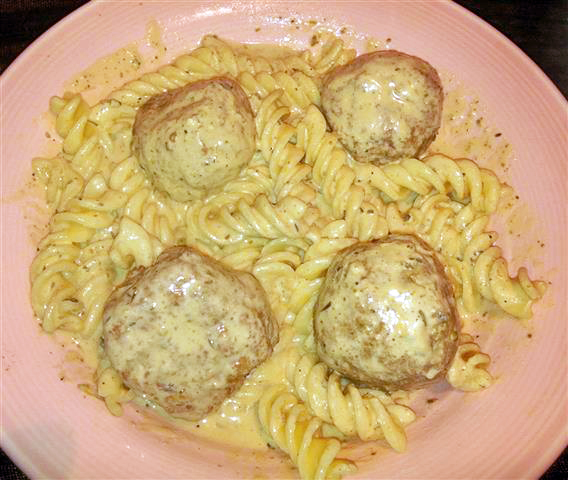 Ingredients for Sauce
2 Cups of Beef Broth
1/2 Cup Sour Cream
1 Cup Heavy Whipping Cream
1/2 Tablespoon Basil
1/2 Tablespoon Oregano
1/2 Teaspoon Salt
1/2 Teaspoon Pepper
Preparing Meatballs
In a large bowl place ground beef and spices. Mix together using your hands. Make individual meatballs the size of golf balls. Then, in a large skillet on medium high heat, add 2 tablespoons of oil. Place meatballs in skillet and brown on all sides. When done remove meatballs from skillet and set aside.
Preparing Sauce
Now, in that same skillet add beef broth, to deglaze and bring to a boil. Allow broth to reduce by half. Then lower heat, add herbs, salt, pepper, whipping cream and sour cream. Whisk ingredients together. Place cooked meatballs into the sauce. Allow to simmer for five minutes.
Serve over rotini pasta, that is al dente.
You can use what ever type of pasta you like. I prefer rotini because it holds onto the sauce better than the traditional egg noodle. The choice is yours!
Enjoy
Posted by Eve
Did you enjoy reading Meatball Stroganoff with Rotini Pasta? Well we enjoyed having you and would like to be friends!
This post contains affiliate links.