As a child, I always enjoyed store bought pickles. One year my dad taught my siblings and I how to grow fruits and vegetables in our backyard. I can remember the first time he made pickles at home, using the cucumbers from the garden. Wow, everyone was amazed at how totally awesome these homemade pickles tasted. The only problem us kids had was waiting for the pickles to become ready to eat.
You see, it took about two weeks until we could enjoy the pickles. He had to let them ferment at the top of our hallway closet. It was torture!!! Well, even though I am much older now, I still have not lost my taste for pickles. I was tired of buying pickles from the store that had unnecessary ingredients and additives to keep the pickles safe for consumption for a long period of time. So I tweaked my dad's recipe and came up with my own. My recipe allows you to enjoy the pickles in about 2-3 hours. I still owe my dad major thanks for showing me how to make pickles at home.
THANKS DAD!!!
Ingredients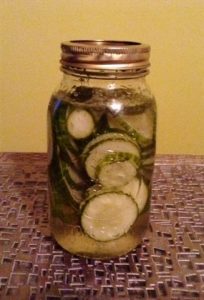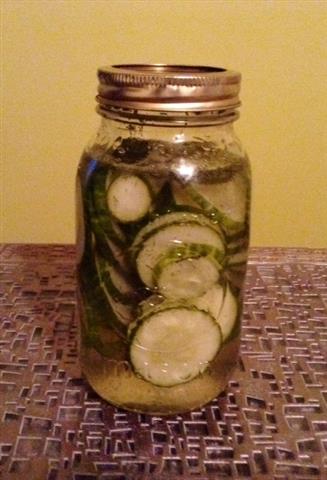 1 Glass Mason Jar with Lid
1 Long English Cucumber
2 Teaspoons of Salt
1/4 Teaspoon of Black Pepper
3 Teaspoons of Dry Dill
1 Cup White Vinegar ( if you enjoy really tangy pickles you can increase the vinegar to 1 1/2 cups )
Water ( the correct amount of water is determined by how much vinegar is added to jar )
2 Garlic Cloves ( Optional, only for those who enjoy garlic flavored pickles )
I prefer English cucumbers because they are seedless and have a firm inner texture. You can use any cucumber of your liking to enjoy this pickle recipe.
Instructions
Slice the cucumber into 1/4 inch slices
Place all slices in the mason jar
Add-
Salt, Pepper, Dill and Garlic (if you prefer)
Add-
White Vinegar
Add-
Water to almost the top of rim of mason jar
Tightly screw on the lid
Gently (do not shake) turn jar upside down 2-3 times to mix ingredients together.
Place in the refrigerator for about 2-3 hours.
The longer you allow the pickles to sit in the jar, the more tastier they will become.
I have tried and failed to make these recipe work with using red wine vinegar. So I only recommend using white vinegar.
Enjoy your Homemade Pickles!!!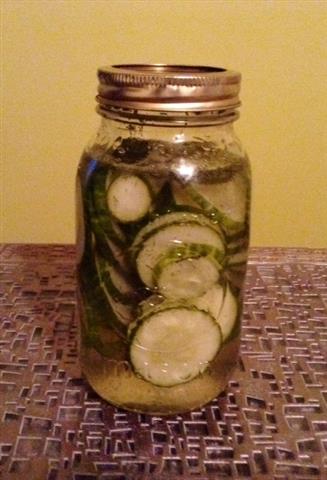 Posted by Meke
Did you enjoy reading Meke's Homemade Pickles? Well we enjoyed having you and would like to be friends!
This post contains affiliate links.