Men on online dating sites often complain that they can't get and keep the attention of attractive, dateable ladies. If this sounds like your story, it could be that your profile or the messages that you've been sending are simply turning women off. Here are five big turn offs for ladies on online dating sites that cause them to suddenly stop talking to you or to not talk to you at all.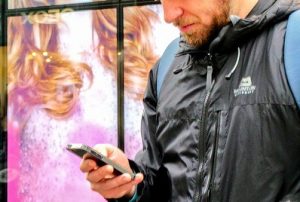 Shirt Off
Hey fellas, what's with posing with your shirt off on your profile? It's great that you're proud of your body and all those visits to the gym have definitely paid off, but most dateable women aren't attracted to your bare chest—at the very least it's not the first thing they want to see about you. If you want to show off the muscles you worked so hard to attain, you can still do that by putting on a nice looking short-sleeved shirt in your profile picture.
Asking for More Pictures Too Fast
Most sane women understand that men are visual creatures, but if a woman has already provided you with a couple of clear pictures that show you what she looks like, don't ask her for more pictures the first or second time you chat with her. She's trying to find out if you want to get to know her as a person or if you're just interested in what she looks like from every angle. Women are people, not statues or trophies and dateable women are probably going to be very turned off when you constantly beg them for more photos. And if you're thinking about asking for risqué photos from a dateable lady, go ahead, just don't be surprised when you don't ever hear from her again.
Listing What You Don't Want in a Woman
Negative Neil, this one is for you. Instead of listing all of the qualities you desire in a woman, you spend an entire section of your profile listing what you don't want (i.e. no gold diggers, no stupid girls, no drama). Listen up Negative Neil, when you focus on negative things, that's what you constantly see and get back from the world. Most psychologists might also say that the things that you vehemently state you don't want are actually what you do want and purposely attract to yourself all the time.
Ranting About Women
Some men on online dating sites seem to think that venting and ranting on their profiles or pages about women (i.e. all women are out for money) is somehow going to attract a good woman one day. It's definitely not—in fact dateable women will run like the wind from you if you do this. Deal with your anger issues before you put up an online dating profile and accept that you have probably been playing a significant role in attracting a certain type of woman into your life. Start anew—try listening to a self-development guru like Stephen Covey (author of The Seven Habits of Highly Effective People).
Talking About Your Ex Every Chance That You Get
They say that an ex is an ex for a good reason, but some people have a hard time coming to terms with this truth. Some guys who are still hung up on their ex-girlfriends or ex-wives make the mistake of dipping their feet into online dating too soon. You can distinguish these guys right away because they go out of their way to mention their exes almost immediately. In just about every exchange the ex comes up in some creative way and of course he mentions "her" on his profile. A smart woman will recognize that you are still hung up on "her" and it is a major turn off. She doesn't want to be hurt when you decide that you want to go back to your ex one day. So if you were wondering why a woman suddenly stopped communicating with you after you mentioned your ex-girlfriend for the third time in four exchanges, now you know.
Read the content of your messages to women and count how many times you mentioned your ex. Leave "her" out of the conversation and if you can't control your thoughts of your ex maybe you shouldn't be on an online dating site just yet.
Dateable women are becoming much savvier when it comes to online dating. They are learning how to weed out guys who they wouldn't be attracted to in real life. If you are a man looking for a lady online, keep these five points in mind if you want to avoid having women pull the disappearing act on you time and time again.
Photo Credit: Flickr/Garry Knight
Did you enjoy reading Online Dating Tips for Men: 5 Reasons Ladies Stop Talking to You? Well we enjoyed having you and would like to be friends!
This post contains affiliate links.