If you're starting your room design with chocolate brown bedding, here's the great complementary color to consider.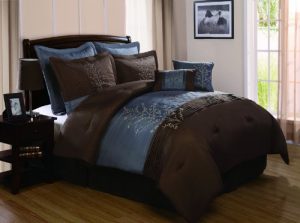 Chocolate brown is a rich and serene color. It can make a bedroom look more mature, formal and sophisticated. If you've settled on this color for your bedding, you must then consider an ideal color for your wall paint. Being that chocolate brown is one of my favorite colors, I have a personal preference when it comes to matching it up with another one of my favorite colors: blue.
According to color theory, complementary colors are located directly across from each other on the color wheel. Click here to view a color wheel. Complementary colors almost always look good together, so it's a good practice to have a color wheel handy when designing your bedroom and deciding on a color scheme.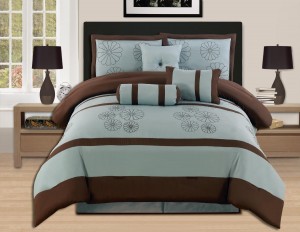 If you look at a good color wheel you'll see that there are a number of shades of each color, including browns which are located between red and yellow. On the color wheel brown is across from shades of blue. It's no wonder chocolate brown and blue look good together when you're designing a bedroom or other room of your home.
So since brown and blue complement each other, focus on shades of blue when deciding on a wall paint color to go with your chocolate brown bedding. Get a lighter shade of blue, such as sky blue, turquoise or baby blue to brighten up the bedroom (you can see how these colors go together in the bedding photos here).
When picking a trim color for your wall (trim is the frame around your doors and windows) consider a darker shade of blue or an eggshell color to finish off the bedroom's color scheme. A medium to dark hardwood floor also complements these two colors well.
Additional Accoutrements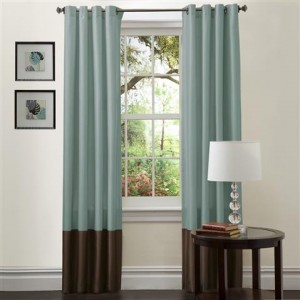 Once you have your chocolate brown bedding and blue color scheme finished, you can start adding accoutrements, like window drapes and decorative elements. Match window drapes to the bedspread with either the same chocolate brown or a lighter shade of brown (such as a deep tan). Patterned drapes, such as a vertical stripes with that chocolate brown color in the pattern, is another great pick. Add a lamp the color of your dark blue trim as well to even out the décor if you'd like.
You don't have to limit yourself to blue-start with this idea of color complements and examine the color wheel to come up with even more exciting color combinations to go with that beautiful chocolate brown colored bedding. Hope this helps answer your question of what goes with chocolate brown bedding in a bedroom!
Posted by Jade
Did you enjoy reading What Paint Color Goes with Chocolate Brown Bedding?? Well we enjoyed having you and would like to be friends!
This post contains affiliate links.