This recipe for Pork Wraps Made with Boneless Ribs is a way to put those frozen, boneless leftover ribs from summer barbecues to good use. This wrap is an unique way to use the ribs to feed you and your entire family. With just a few added ingredients, you have a delicious meal.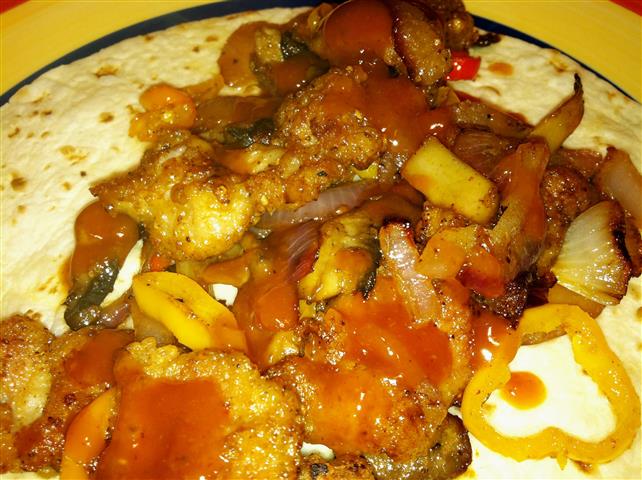 Ingredients
1-2 Lbs boneless pork ribs (beef boneless ribs are ok)
1/4 cup of oil
1-2 tablespoons mesquite seasoning
1/4 cup of barbecue sauce (your choice)
1/4 cup of red onion thinly sliced (white onion is ok)
3 large mushrooms thinly sliced
4-5 baby peppers (red, yellow, orange) sliced into rings
3 tablespoons flour
2-4 white flour tortilla wraps
Instructions
In a large sauce pan add 1-2 tablespoons of oil and place in diced onions, mushrooms and peppers. Sauté until tender. Remove from pan. Now, slice ribs into 1/4 inch pieces and season with mesquite seasoning. Then add flour to coat ribs. Put your sauce pan on medium high heat, add oil and fry rib pieces on both sides until it is golden brown. Add cooked onions, mushrooms and peppers to pan with rib meat. Sauté for about 3-4 minutes. Remove from heat. Place tortillas on a plate in the microwave and warm. Divide rib meat mixture evenly onto tortillas and drizzle barbecue sauce generously on top. Create your wrap.
Enjoy this recipe for Pork Wraps Made with Boneless Ribs with a drizzle of greek yogurt or ranch dressing!
Posted by Eve
Did you enjoy reading Pork Wraps Made with Boneless Ribs? Well we enjoyed having you and would like to be friends!
This post contains affiliate links.