I sometimes struggle with unwanted hair on my face, neck and chin. I don't like using razors because I don't like the razor bumps, irritation and minor cuts. Plus, I would have to shave at least 2-3 times a week in order to maintain these areas. I heard about wax strips and wanted to give them a try. I found a product at my local pharmacy called the Sally Hansen Hair Remover Wax Strip Kit — it's for the face, eyebrows and bikini area.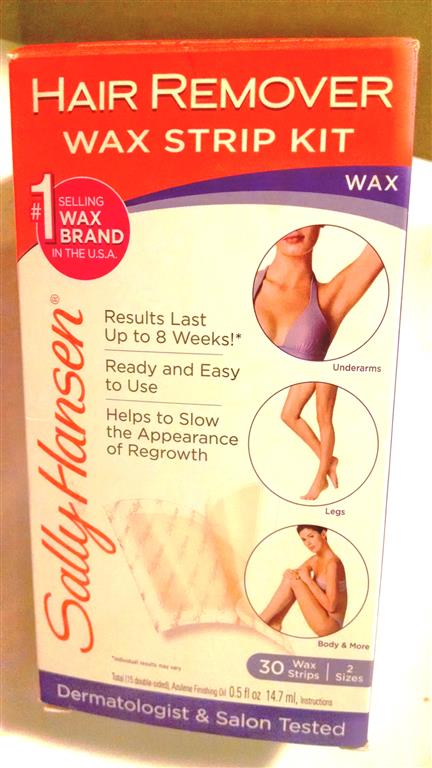 Benefits
– Plenty of strips (34 to be exact; 17 double sided strips in 3 different sizes)
– very affordable at around $5 per box
– strips can be cut to fix up your eyebrows or lip hair
– gets the job done quickly
I mostly use these wax strips when I want to shape up my eyebrows. I simply cut an eyebrow shaped oval at the center of the strip, then separate them (creates a total of four sticky strips) and apply either below or above the brow. After smoothing it out with my fingers for a few seconds, I quickly yank the strips off. The discomfort only lasts for a few seconds and you get a clean curved eyebrow shape. You'll figure it out with a little practice. There are a couple of cloths inside that contain a finishing oil to wipe around the brow area.
Personally, I find that when I use this product, I only have to do it once or twice per month to keep my eyebrows looking good. I also use them when my sideburns get a little bit out of control and for removing annoying lip hair. I highly recommend this product for beauty conscious women who want an affordable an easy way to get rid of facial hair. Compare the cost of one box to going to a nail salon for eyebrow waxing.
I give the Sally Hansen Hair Remover Wax Strip Kit 4.5 stars. It would be at 5 if they provided a variety of eyebrow shaping cutouts and a tiny scissor for convenience.
Review by Jade B.
Did you enjoy reading Product Review: Sally Hansen Hair Remover Wax Strip Kit? Well we enjoyed having you and would like to be friends!
This post contains affiliate links.