I was in desperate need of a fast-acting weed killer, like yesterday. I have family members who are allergic to bee stings. The problem with one variety of weed that was overgrowing on my grass was that it had a white flower that attracted bees everyday. After looking around for an affordable and proven product I gave Spectracide Weed Stop For Lawns a try. I'm glad I did, especially considering that many weed products on the product are hit and miss.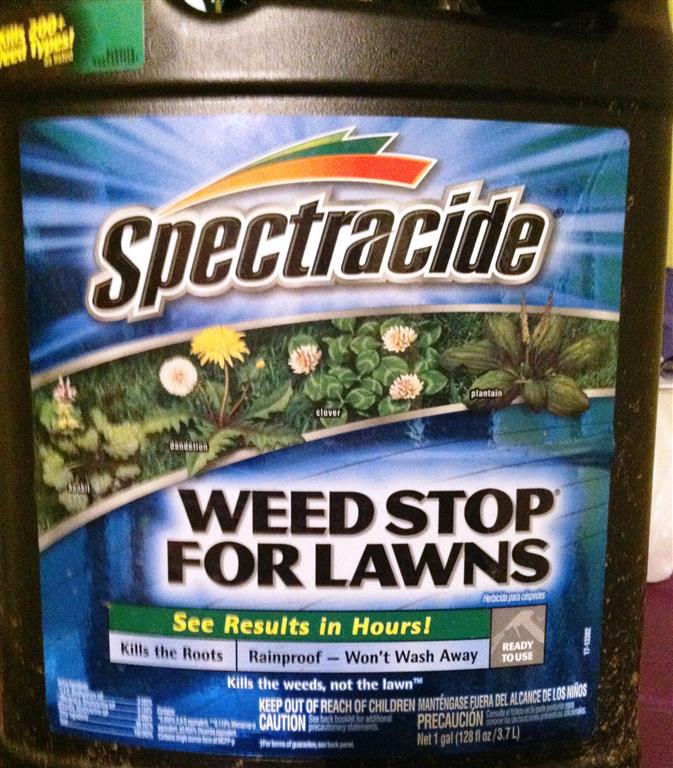 Benefits
~ one gallon size container
~ easy to use sprayer
~ kills over 200 types of weeds (see full list here)
~ doesn't harm or burn lawn in any way
~ results shown within 24 hours – fast acting
~ rain resistant
After applying this product on a Tuesday, I saw the  weeds dying off the very next day. Everyday thereafter, I saw a great difference in the amount of weeds. I was also very pleased that none of my grass was affected by the weed stop. I even have enough product left over for next season. Keep in mind that this particular bottle is best for spot treatments–if your lawn is overrun with weeds, use the Spectracide Weed Stop Concentrate instead. Pour the recommended amount (see the label for instructions) in a spray bottle with a hose hook up. Fill the rest of the bottle with water and hook it up to a hose for widespread application. But be careful not to use too much — about a minute in each area will suffice.
* Keep in mind that some lawns and weed mixtures are different, so certain products will work better than others on your unique lawn. Try out various brands to find out which one is most reliable for your own lawn, then you can just stock up on that brand each year.
I recommend Spectracide Weed Stop For Lawns if you want something that will help keep your lawn green while getting rid of annoying weeds.
Review by Lorraine
Did you enjoy reading Product Review: Spectracide Weed Stop For Lawns? Well we enjoyed having you and would like to be friends!
This post contains affiliate links.