I created a row garden this year with a wide array of veggies, including tomatoes, cucumbers, onions, collard greens, kale, spinach and potatoes. I've made the commitment to grow organic, but it can be difficult to maintain a large row garden like mine with all the weeds growing so fast. I looked for an organic weed preventer and I found a product called Preen Organic Vegetable Garden Weed Preventer. I decided to sow it into the soil before planting seeds (it's also serves a fertilizer).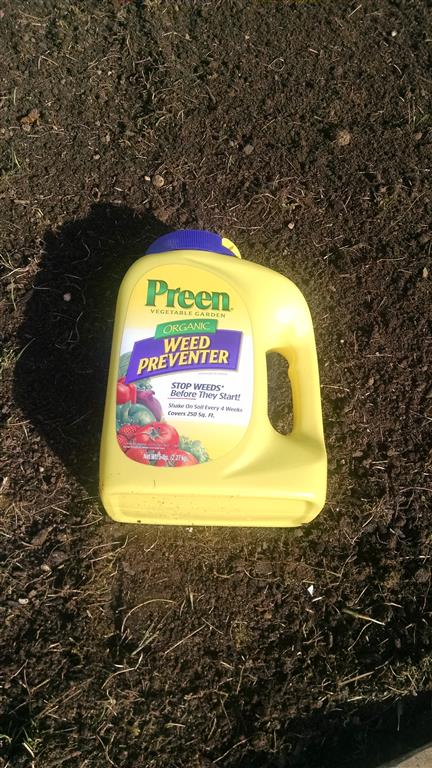 Benefits
• it's affordable at around $15 for a 5 lb container that covers 250 sq ft
• it's advertised to prevent weeds from growing in the garden and fertilize the soil
• it's easy to use, no mixing required — just sprinkle and sow it into the dirt
• 1 application is supposed to last for up to 3 months
• can be applied to the soil in the summer, spring and fall
I didn't see weeds starting to make their appearance in my garden until about a month after using the Preen Organic Vegetable Garden Weed Preventer. So while it worked for a while, it didn't last in my garden for the 3 months as advertised. However, I might give it another application soon to help keep weeds at bay for another month.
I'd give this product a rating of 3 stars out of 5.
Growing a garden is truly a labor of love. To harvest and eat vegetables that I know grow free of chemicals +\or pesticides is an awesome feeling. However, if you can, you should cut out unnecessary chores whenever possible. I recommend Preen Organic Vegetable Garden Weed Preventer to organic gardeners who need something to help keep their weeds at bay.
Posted by Jade
Did you enjoy reading Review: Preen Organic Vegetable Garden Weed Preventer? Well we enjoyed having you and would like to be friends!
This post contains affiliate links.