Eating Italian food is always a decadent and enjoyable experience for me. The cheese, the tomatoes, the spices… yum! One of my favorite Italian foods is the classic ricotta mozzarella calzone–I've learned that I can make it easily at home instead of buying one for $8-$10 at a local pizza restaurant. When all the ingredients are purchased I can make 2-3 calzones for the price of one at a restaurant.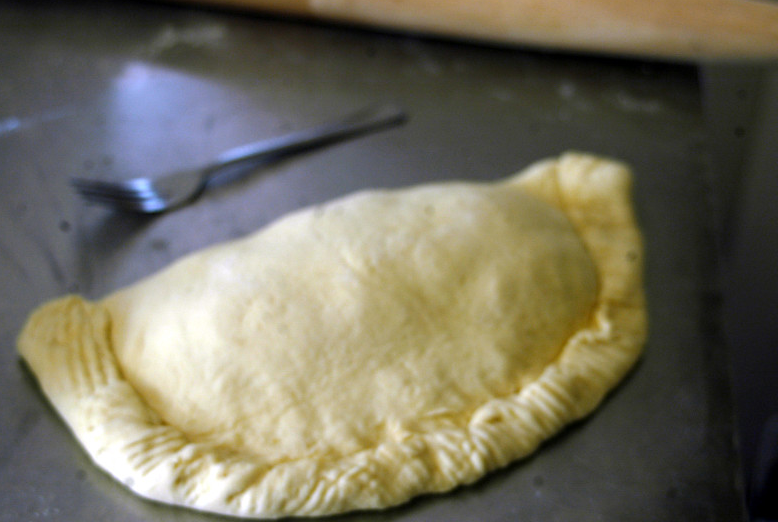 Ingredients
Whole milk ricotta cheese
1 egg
Salt and pepper to taste
Mozzarella cheese
Pizza dough
* Keep in mind that you can now purchase quality pizza dough at your local grocery store. You can even purchase wheat pizza dough if you prefer. You might also want to get a jar of marinara sauce to dip your Ricotta Mozzarella Calzone into for added flavor.
* You can also add mushrooms, sliced green peppers and/or pepperoni to the mozzarella mixture if you'd like.
Instructions
Preheat oven to 375*  Then cut your dough in half so that you have two pieces for two calzones. On a well floured surface, roll your dough out to desired thickness. Now in a large bowl add ricotta cheese, egg, salt and pepper. Mix well. Then add about a 1/2 cup of ricotta mixture to center of the dough. This is the time to add all of the other ingredients of your choice. Top with mozzarella cheese. Fold dough over and pinch edges to keep ingredients inside. Repeat for other piece of dough. Place calzones on non stick cookie sheet. Bake for 10-15 minutes or until crust is golden brown. Serve with a bowl of marinara sauce for dipping. Enjoy!!!
Posted by Lorraine

Photo credit: Flickr/habesha
Did you enjoy reading Ricotta Mozzarella Calzones? Well we enjoyed having you and would like to be friends!
This post contains affiliate links.