I am a reformed gas 'nickel and dimer.' I have seen the light. Putting five or ten dollars in your tank at a time might seem like it's saving you money in the very short run, but in the long run it could be just costing you peace of mind and fuel economy.
Nothing has you on the edge of your seat like riding on 'E.' No, I'm not talking about the expressway, or a subway train, I'm talking about when your gas is on empty. It's a risky game to play, but sometimes it can't be avoided for financial reasons. However, if 'E' riders, (like myself in the past), were to put things in a different perspective, they might change their habits for the better.
What It Feels Like to Ride on E
That little light comes up on your dashboard–"hey, you need gas." You think about how long you have before you actually have to make that stop at the gas station. 30 miles? 40 miles? Every 10 seconds you're looking at the dashboard to see if the needle has moved any more. Never mind that you've passed about 10 gas stations already. You reason with yourself about how the reading might not be accurate and think about "gas reserves." It's madness to put yourself in this nerve-wracking position on a regular basis.
What It Feels Like to Actually Run Out of Gas
You're driving along, and your gas meter is now beneath the 'E' line. "Well, the light didn't start blinking yet," you say to yourself. "I probably have another ten miles to go." A mile later, the car begins to jerk and sputter. Uh oh.
I had this experience once years ago when I was driving on a poorly lit highway. The vehicle (a van at the time) ran out of fuel at the worst possible moment. I had to walk miles before finding a gas station and then walk all the way back in the darkness. It was one of those very tight times when I couldn't even afford to pay attention, let alone pay for road service. But I did end up having to pay about $15 for a can and a couple of gallons of gas to get me to my destination. Smart!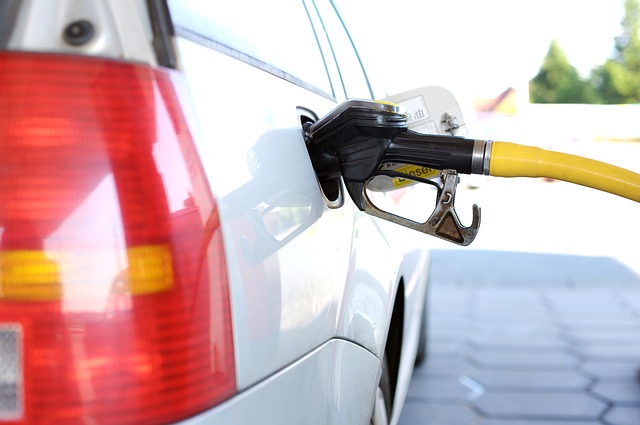 Fill 'Er Up
Putting five dollars here, and five dollars the next time in your tank may seem like your only option, but when you put it into the proper perspective, it's actually pretty ridiculous. Why not just put $20-$30 in there once and avoid the four trips to the gas station? When you're in financial straits sometimes you don't think straight.
When I would 'nickel and dime' my car, I would most likely be making a stop at the local gas station every day, or every other day – sometimes twice a day because for some reason a little bit of gas in the tank at a time seems to go quicker. The gas seemed to evaporate in my tank, and I ended up on 'E' at the end of just about every day. At the time I was driving an average sedan. In a common week I would make seven stops that went like this:
Based on gas at $2 a gallon (the good old days):
Sunday-gas to get to church $5 (2 ½ gallons)
Monday morning-gas to get to work and back $10 (5 gallons)
Wednesday morning-gas to get to work and back $5 (2 ½ gallons)
Wednesday night-gas to get to meeting and back $5 (2 ½ gallons)
Thursday morning-gas to get to work and back $10 (5 gallons)
Friday night-gas to go out with friends $10 (5 gallons)
Saturday afternoon-gas to go to the mall $5 (2 ½ gallons)
Sound familiar? I had to ask myself, what really is the point of all of that? It would have made sense to just fill the tank to avoid all of those stops. I still spent $50 during the week for 25 gallons, and still the tank was on E every day.
Also, I discovered through practice that when you fill up your tank at a station that you know sells quality gas, it lasts longer. I usually have a little gas left over at the end of the week when I fill it up. It just makes more sense.
It's Not Worth It
Riding on 'E' on a regular basis just isn't worth it. For one, if you run out of gas on more than one occasion, it can create a mechanical strain on your car. Some car experts will tell you that running out of gas can cause problems for your fuel injection system. I learned that when you run out of gas, a gum may form that can eventually cause interference with the fuel delivery.
The second problem is that it can be a mental strain to you, and possibly be a safety risk while you are driving. The anxiety of driving with the fear of running out of gas in the back of your mind, everyday, can be a strain on your body and mind. Wouldn't it just be easier to 'fill 'er up' and only think about this task once or twice a week? Also, when you are constantly checking your gas meter while driving, that's less time you have your eyes and mind on the road.
So to the every day 'nickel and dimers,' the risk takers, and the financially strapped, maybe after reading this you'll just save up enough to make the full tank investment. Take it from me, a former 'nickel and dimer', it will save you a lot of trouble, money, and legwork.
Feel like you're constantly in a financial rut? Read this book to get back on track with your finances and figure out how to budget your money more wisely.
Posted by Jade
Did you enjoy reading Riding on 'E': Coping When Your Gas Tank is Almost Empty? Well we enjoyed having you and would like to be friends!
This post contains affiliate links.