This is a very tasty and delightful Latin American Stew. The flavors are sure to explode in your mouth. It all begins with the base for your stew called Sofrito. It is a combination of onions, peppers, tomato sauce, garlic, adobo, Sazon and fresh cilantro. Even though this recipe for San Cocho Stew calls for chicken and/or pork, you can feel free to use the meat of your choice.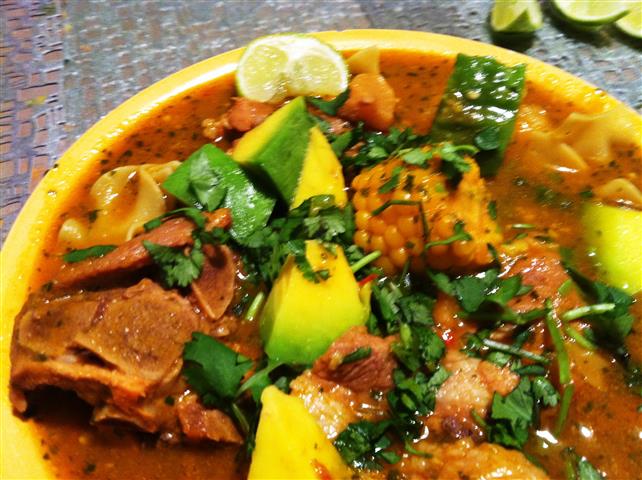 Ingredients
1 lb chicken pieces
1 lb pork neck bones
1/2 bush fresh cilantro
1 yellow plantain peeled (cut into 1/2″ pieces)
2 medium potatoes (chopped coarsely into chunks)
1 medium yuca peeled & cut into 1/4″ pieces
2 whole ears of corn (cut into 1/4″ pieces)
5 large cloves of garlic (peeled)
1-2 tablespoons cumin
1 tablespoon Goya Adobo
2 low sodium chicken bullion cubes
1 pack of Sazon
1medium onion chopped into 1/4's
1/2 large green pepper
1/2 large red pepper
1 small can of tomato sauce (unseasoned)
2-3 tablespoons olive oil
Instructions
Thoroughly wash chicken pieces and rinse neck bones. In a large stew pot on medium high heat add 4-6 cups of water. Bring to a boil, add meat, lower heat to medium and let simmer covered for 30-45 minutes (or until meat is fork tender). Meanwhile prepare your Sofrito by placing cilantro, adobo, chicken cubes, onions, green pepper, red pepper, garlic cloves, tomato sauce, Sazon, and olive oil into a large food processor. Pulse on high for 30 seconds. Set aside.
Now, add yuca, potato, corn and plantain to the pot. Add the Sofrito mixture to the pot. Stir and bring pot back to a boil for 15 minutes or until yuca is fork tender. Serve in a large bowl with a large lime wedge to be squeezed into each portion and a few pieces of diced avocado.
We hope you enjoy this San Cocho Stew Recipe!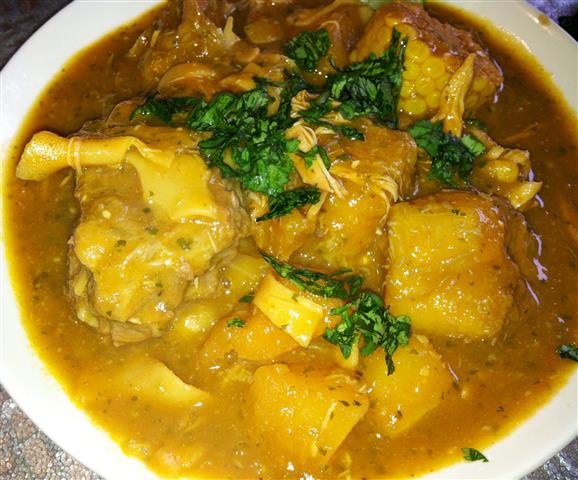 Posted by Eve
Did you enjoy reading San Cocho Stew Recipe? Well we enjoyed having you and would like to be friends!
This post contains affiliate links.