If you are in search of an exciting twist for your chicken dinner, you might want to give this recipe for Southwestern Chicken with Pasta Shells. It's very flavorful and will leave you and your guests wanting more.
Ingredients
3 Chicken Breast Cut into small pieces (skin and bone removed)
1 Box of Pasta Shells (cooked al dente)
1 Can of Black Beans (drained)
2 1/2 Cups of Salsa
2 Tablespoons of Olive Oil
1/2 Yellow Onion (chopped)
1/2 Red Pepper (diced)
1/2 Green Pepper (diced)
1 Package of Cream Cheese
3 Teaspoons of Cumin
2 Teaspoons of Garlic Powder
1/4 Teaspoon Salt
1/4 Teaspoon Black Pepper
2 1/2 Cups Cheddar Cheese (shredded)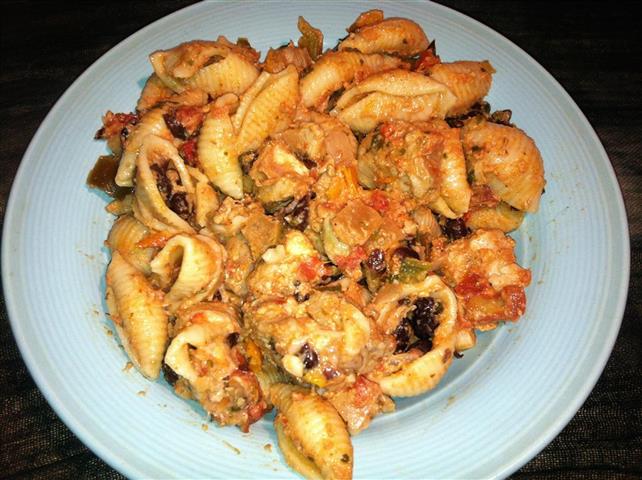 Instructions
In a large skillet, on medium high heat add oil, chicken breast, peppers, onions and sauté. Cook until chicken is done. Now add the cumin, garlic powder, salt and pepper to the pan and combine. Place heat on low and add salsa. Mix well. Next, add cream cheese and allow cheese to melt and blend with mixture. Add black beans, cheese and pasta shells. Stir with a large spoon. Put mixture into a large casserole dish, cover and bake at 325* for 10-12 minutes. Optional, to add a dollop of sour cream to plated dish.
** This recipe for Southwestern Chicken With Pasta Shells is pretty much a one pot meal. Keep in mind that you can use chicken thighs as a substitute for chicken breast.
Enjoy!!!
Did you enjoy reading Southwestern Chicken With Pasta Shells? Well we enjoyed having you and would like to be friends!
This post contains affiliate links.