I have been preparing this meal for my family for many years. This Spanish Style Steak recipe may look complicated, but really it is not. It is mainly about having the correct seasonings. Once you or your family taste this recipe it will become a meal that is asked for weekly. This recipe will feed a family of 4, graciously!!!
Ingredients: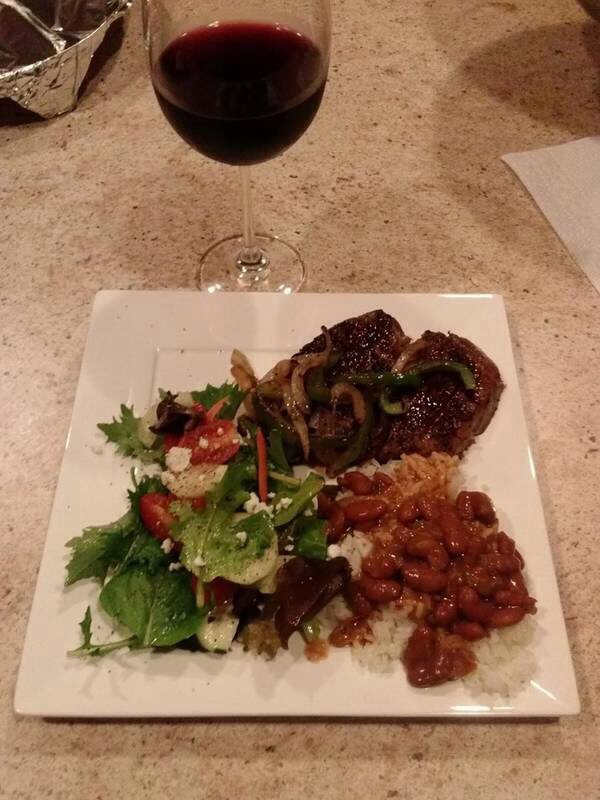 3 to 4 lbs Chuck Eye Steak (or steak of your choice)
1 large Sweet Onion
1/2 large Green Pepper
3 teaspoons Adobo Seasoning
1 can Red Kidney Beans
1 large Garlic Clove
1 cup Long Grain Rice
2 tablespoons of oil ( oil of your choice)
Instructions:
Rice
Place 2 cups of water in a medium sized pot
Bring to rapid boil
Add 1 teaspoon of Adobo into boiling water
Add 1 cup of rice
Add 1 tablespoon of oil (prevents rice from sticking together)
Stir rice, oil and seasonings together
Bring back to a boil
Cover rice with lid and put heat on low
Allow to cook 20 minutes (do not remove lid while rice is cooking)
Beans
Open 1 can red kidney beans (or beans of your choice)
Pour into sauce pan on medium heat
Peel and coarsely chop garlic
Add garlic to beans
Stir and bring beans to a simmer then cover with lid for approximately 4-5 minutes
Turn heat off, leave the beans covered to allow them to stay warm
Steak, Onion, Pepper
In a large fry pan place 2 tablespoons of oil and set temperature to medium high
Slice onion and pepper into strips and place into fry pan
Toss/ coat onion and pepper in the fry pan
Cook until soft
Remove from pan, place on plate, put aside
Place heat on medium high and allow fry pan to get hot
Season steak on both sides with 2 teaspoons of adobo seasoning
Add steak to fry pan, add onions and peppers also
Fry steak for 3-4 minutes on each side (depending on the thickness of your steak)
My family and I enjoy having this meal with a side salad, that consists of lettuce, feta cheese, sliced onion, tomatoes with a vinaigrette dressing.
Salud!!!!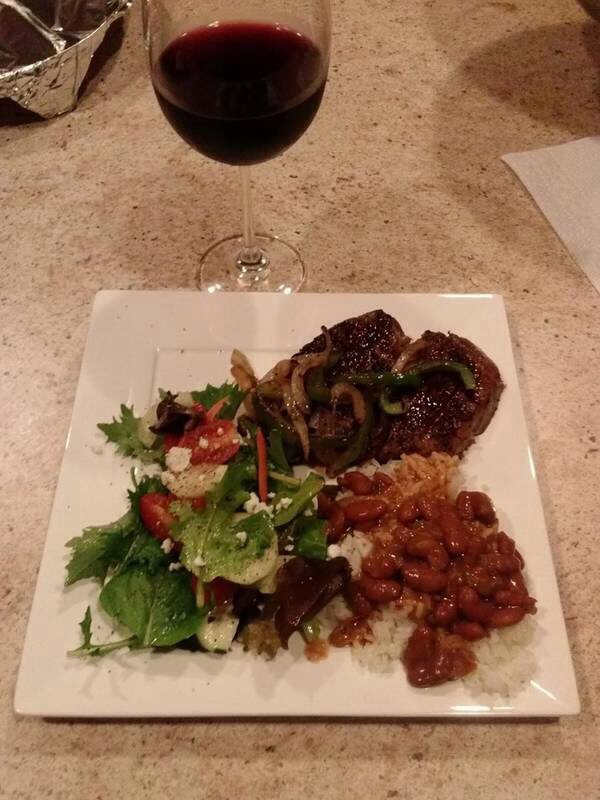 Did you enjoy reading Spanish Style Steak with Rice and Beans? Well we enjoyed having you and would like to be friends!
This post contains affiliate links.