When it's oppressively hot outside, the last thing anyone wants is to have to count calories when consuming a delicious frozen treat. No worries when you make these delicious frozen Strawberry Yogurt Pops Made With Stevia — they're made with just three ingredients.
Keep in mind that you don't have to follow the recipe exactly — you can use different fruits such as blue berries, raspberries, mangoes, pineapple, etc. — whatever fruit you enjoy the most. Also, do not put any water in the mixture or it will form ice crystals and weaken the taste of the pop. Instead, if your mix is extremely thick add more yogurt to thin out. Taste your mix before placing it in molds to check for desired sweetness.
** You can find ice pop molds just about anywhere, at a really affordable price.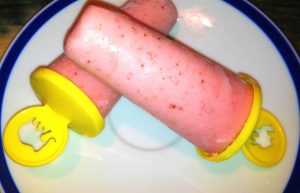 Ingredients
2 cups whole strawberries (or the fruit of your choice)
1/2 cup Greek yogurt
1/4 cup Stevia
Instructions
Put all ingredients in a blender and blend until smooth.
Fill ice pop molds with mixture.
Allow the mixture to freeze for about 3 hours.
Enjoy your Strawberry Yogurt Pops Made With Stevia!
Posted by Eve
Did you enjoy reading Strawberry Yogurt Pops Made With Stevia? Well we enjoyed having you and would like to be friends!
This post contains affiliate links.